Strava App Review
On most of my bike rides, before we even leave the parking lot, someone invariably says "Strava On?"
It's become like a mantra. The bike riding (and running) app was originally designed for competitive people who really like to see how fast they are doing a similar course compared to others. I like to use it to document rides. (I guess you can use swim also, but I've never tried that.)
I don't use it as much of challenge but more like documentation or logging my rides. I love looking back over the years of riding and remembering the fun we've had.
On this past Saturday, I rode my favorite ride. It's a large circle that we affectionate call the "Kent Loop."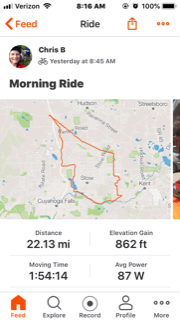 It hardly goes into Kent, Ohio at all, just the outer edge. It's the southern part of the Bike Hike Trail for Summit Metro Parks. If you click through on these links, you'll see how great this route is! We are so very lucky to have so many trails.
One reason I really like this route: about 70% is on a bike trail, 25% on pretty neighborhood streets and only 5% along or crossing large highway (4 or 5 lane monsters.) Most of them have a cross walk.
The Strava app keeps track of your moving time, so if you're like me and like to take breaks to drink water or talk a bit, it captures your moving time, not just how long you are out riding. I also like tracking the calories and the elevation. The Watts for average power kind of aludes me, or I guess I don't care about it as much, since I'm mostly riding for fun and secondarily for the exercise.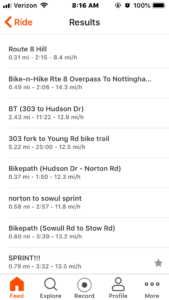 Strava lets me document with photos, elevation, speed, the map, and I can text changes to the route.
One of my fastest sections is along a 1 mile flat area that has a hill down from the crossing road. I've done this section 55 times, first starting in 2012.
Someone has named various sections of the Kent Loop and this section is called SPRINT! so I guess lots of people like to ride fast along here.
I know from tracking all these rides that I like to ride a little over 11 miles per hour. I'm happiest as a casual ride, chatting and enjoying the wildflowers along the trail.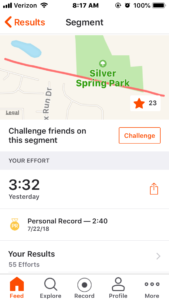 The SPRINT! section is also one of my running and walking routes. Loyal readers may remember these flowers from last fall!
If you are a bike rider, you probably already know about and use Strava to document and log your rides. If not, give it a try and see if you like it. I used to use MapMyRide and have also tried RideWithGPS. I sometimes use Charity Miles too, but they all offer different features.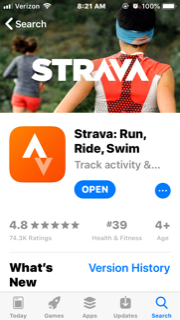 Why I Like the Strava App:
With Strava I can connect with friends and give them "kudos." There's a friend from Rhode Island who started riding later in life, and we support each other with our bike riding.
I like to look back a prior years and see when was the last time I did this route
If I'm looking for a "new" but familiar route, I can quickly flip back to see my rides
Uploading the photos was a cool way to further jog my memory
It's easy to let the phone log my rides. Much easier than jotting down on a paper or entering into the computer.
Tracking helps me know how "prepared" I am for a longer or more difficult ride. It gives me confidence.
Do you track your rides or runs with an app? Ever tried Strava? What do you like, or not like, about it? Let me know by leaving a comment below, sending an email to Chris@becomingelli.com or calling 330-970-6662.