Now that we're well into December, I'm thinking about what I've been able to accomplish this past year… and what I'd like to focus on for the new year!
I'm really thrilled that I was able to train for the 13.1 half marathon and finish it feeling good about myself.
As usual, my first thought for a new year resolution is to lose weight. But actually, it's not the number on the scale I'm interested in as much as what it represents. Yes, I'd like to weigh less but I'm more interested in converting some of the fat or water weight into strong lean muscle.
I wrote a little bit about "strength building season" recently. For the past month I've focused on lifting weights two or three days a week. Not tons of weight. And not tons of time. But consistently lifting two or three days a week.
One nice difference, I've started to get more confidence. One way I know is that I'm doing fewer laps around the track every other weight, to psyche myself up.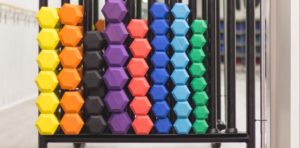 This morning when I did my usual Saturday morning workout group exercise class at the gym, I really noticed the difference in my strength!
Using weights during the workout felt "easy"… even though I'd gone up 2 pounds,
from my usual 6 pounds to the 8 pound weights. Some of the moves where I really noticed it:
Reverse lunges with a hammer curl. Sweet. Trying NOT to swing the weights, but intentionally lift and slowly lower, to get the max muscle effect.
Side lunge reach down, then up, stand on one leg then push press the weight over head. Sweet. Balance on left foot seems so much easier to me than on the right.
Even the reverse crunch with feet out and then knees to chest seemed much easier because of the leg raise machine I've been working on.
Last spring and summer when I was doing those same moves, I was using 5 pound weights and they seemed heavy enough that I was getting a good work out.
It feels good to progress. I wonder what I'll notice by mid-January? Any one else focusing on gaining muscle (instead of focusing on losing weight?)