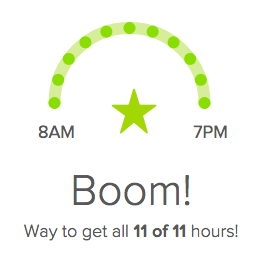 I have been using a FitBit to track for two years now. It definitely motivates me to move! I had no idea that I only did between 1500 and 3000 steps a day if I was on a "regular" work day. Probably the best thing is the hourly reminder to get up and take 250 steps. I can find that I'll sit at my desk, only moving my eyes and clicking the mouse, for hours without realizing it. REALLY not healthy to do that. The watch has a little reminder buzz at the 50 minute mark. It makes a difference!!
After 2 years, I am pleased that my average is over 10,000 now for the past 2 years… and burning more than 2100 calories a day allows me to eat so I'm not feeling like I'm starving.
Results from 2 years of wearing a FitBit – average per day:
10,053 steps
2145 calories burned
4.69 miles
7.3 floors
I got a Charge 2 as a Christmas gift from my husband last year and definitely enjoy seeing the sleep app and the heartrate app that my little Zip didn't provide.
This morning was a workout celebration at spinning class. My Dec goals is to burn 500 calories everyday doing something – spin, run, walk, whatever. Hopefully it keeps the holiday pounds away.
Thanksgiving was only a week ago, but I'm already feeling the result of the stuffing, gravy and turkey soup with rice left overs!
Getting exercise helps burn calories of course, but I find getting my blood pumping around inside my body makes me feel better all day!