Jill and I are having so much fun building the community of Becoming Elli, interviewing guests for our Fit Strong Women Over 50 Podcast and developing resources that women like us would want (like our Fitness Foods downloadable recipe booklet.)
As you can imagine, it takes a little coordination and planning. It was really sunny last Friday. Rather than sit in a meeting in front of our computers, we decided to do a "walk and talk."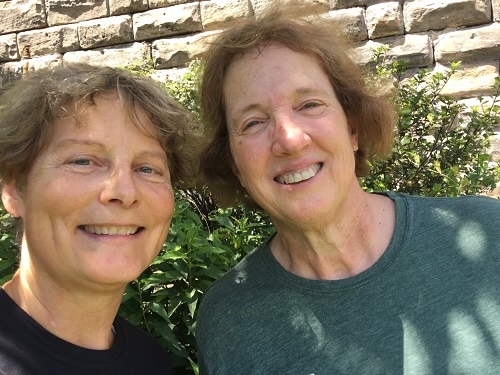 I love when we do that. We catch up on what is happening. So often the sentences start with – "Oh! Yeah! I wanted to tell you about …" or "I found something that I think would work for…"
Walking, while we talk, helps keep the blood circulating in the brain and we rarely have a moment when we say something like "hmm, there was something I needed to tell you, but I can't remember now."
Sometimes I'll bring a little notebook to jot things down, but more often, I just use my phone to keep a reminder note.
This was the first day since all that rain we'd been having in Ohio. We had more than 7 inches in June, which is unusual for around here. There was an enormous amount of water running in the Cuyahoga River. This river was in the news recently for the 50th anniversary of the clean-up efforts. In the 1970's this river became famous because it caught fire in Cleveland with all the oil and pollution in it. With a lot of work and legislation it has been resorted. You can see it is healthy now thanks to all the focus on it.
Jill and I met at Fred Fuller Park near the trail. One side of the trail was closed. We didn't walk even half a mile and the other direction was closed for flooding as well. So we drove a little farther up the trail to Brady's Leap and continued our walk and talk.
Take a look at the rushing water where the Cuyahoga River goes under Main Street in Kent, Ohio! It's usually pretty calm right through here. Kayakers have been warned to not try to enjoy the river until it goes down. A few kayakers even had to be rescued when their kayaks got caught in trees that were hanging.
I'm not sure how far we walked, but I ended up with a total of 6.4 miles for the day. I guessestimate that we walked was just under 5 miles. That's what I call doubling up!
What a pleasant way to enjoy a meeting!
Do you ever double up to get work done and exercise at the same time?