I spent last Saturday with my 25-year-old son. We went kayaking on the Cuyahoga River. The river was calm, nothing like what it was a few weeks ago after many heavy rains. Once the kayak and canoe livery where we rented the canoe took us upriver on a bus and dropped us off, we simply made our way downriver to return to our docking area.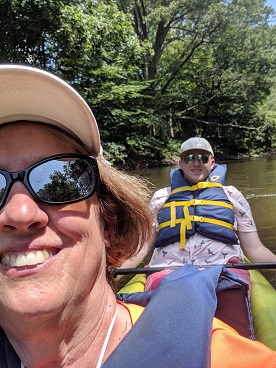 The Cuyahoga River is one of those success stories on environmental change. This is the river that caught on fire in Cleveland many years ago. According to the Plain Dealer, in April 2019, the Cuyahoga River was named "River of the Year" to celebrate its effect on the environmental movement.
To celebrate 50 years of environmental resurgence, the Cuyahoga River has been named "River of the Year" by American Rivers.

The Washington D.C.-based conservation organization works to protect wild rivers, restore damage rivers and advocate for clean water.
In fact, the livery company we used was called Burning River Adventures. I guess enough time has gone by that we can use a name like that.
We were far downstream from Cleveland, however. Dams once contained the river but many of them have been removed. Therefore, the has returned to its natural state and it's now possible to use the river for recreational purposes.
Kayaking on the Cuyahoga River
Our trip was lovely. A beautiful Saturday in July on the water cruising through lots of woodlands. There was not much development along the river where we were so we saw turtles, blue herons, and ducks. Not the most exotic list of wildlife but still enjoyable.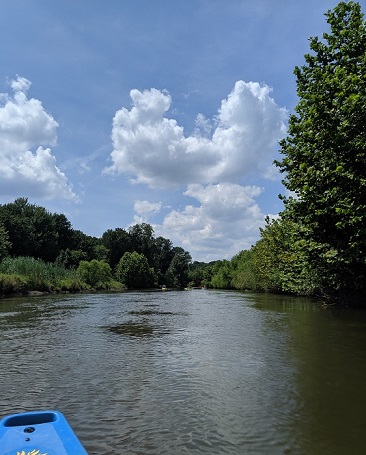 This was not the most strenuous of activities. I didn't have to work very hard and because we were using a tandem kayak, my son did the steering. It turns out that he is proud of his kayaking skills and that he learned how to kayak at the YMCA camp we sent him to when he was about 12. That investment paid off!
So, physically, this wasn't challenging but it was enjoyable and I got to spend some quality time with my son. He left town the next day so it was a fantastic way to end his visit.
Chris wrote about kayaking recently and its growth in popularity. It's not surprising that so many people are taking it up. Plus, kayaks are pretty easy to transport, based on the number of cars I see driving through the area with kayaks on top.
I thought kayaking on the Cuyahoga River was so much fun that I really want to continue with it. Let me know if you also enjoy kayaking or what new activity you're enjoying.