Veggie Delight – Bitter Greens, Dressing and Soup Recipes – Episode 53
Download | Play in New Window
Please Subscribe: Apple Podcasts  (iTunes) | Google Podcasts | Android-Google Play | Stitcher | Player FM | Castbox | Tunein | Spotify | RSS
In episode #53 of Fit Strong Women Over 50, Chris Brown and Jill McCauslin discuss various ways of getting more vegetables into their meals every day.
Some of the recipes that we discussed in this veggie delight podcast episode include:
Veggie blender dressing – yellow squash, carrots with liquid of olive oil, lemon juice and apple cider vinegar.
Cabbage soup – cabbage, carrot, onion, celery, diced tomatoes, green beans, stock. Freeze for later. Add beans and greens with oregano or cooked chicken or sauteed zucchini or kale or potatoes to create variations for lunch or dinner. Taco seasoning with black beans makes a TexMex.
Cowboy Caviar – chop up raw veggies. Black beans, black eyed peas and corn. Three colors of pepper. Diced red onion. Chopped avocado. Olive Oil, lime juice and apple cider vinegar. Cayenne pepper if you want more kick.
Bitter greens – arugula, dandelion greens. Buy at the grocery store. Used in a salad but not a whole salad. Add into a mixed greens salad. Packed full of nutrients and good for the digestive system.
Bitter melons – Diane Reuther bought these from an Indian food grocery store. They are spiny on the outside. She cut it length wise. It's white or red inside. Scoop out the seeds. Par boil it to stay crunchy in a stir fry with onions and carrots. Add soy sauce and a little maple syrup. Good for your immune system. (Diane Reuther says she didn't care for it.)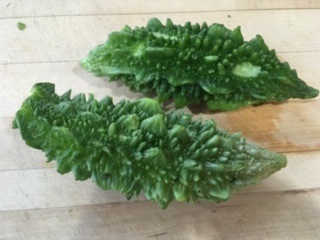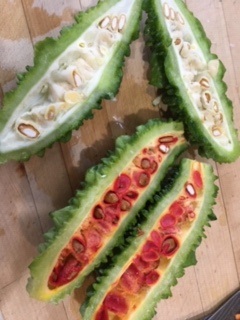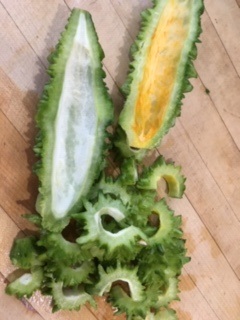 Riced or noodle vegetables. Riced cauliflower – buy already riced or use a grater on a head of cauliflower. Green olives recipe.
Cauliflower crust for pizza – Many in store cauliflower crusts use rice flour – still prepared foods that may have ingredients you may not want. In search of the best recipe.
Adding coconut milk to riced cauliflower – Jill tried it and it was delicious.
How can we make this taste better? Is it only an acquired taste? Or can someone tell us how to make them more tasty? Leave a message on 330-970-6662 or post on the comment section.
#bitterchallenge #cauliflowercrust #souprecipeswithvegetables #bitterchallenge to our listeners