I recently had a trial class here in my town, at a relatively new exercise studio called Club Pilates.
While over the years, I have taken a few Pilates classes at the health and fitness center where I've belonged almost continuously since 1994, it's hard to pass up a free class to check out something new.
Regular readers may remember my CycleBar experience and Jill's workout at this Pilates studio when it had just opened.
Sample Class
I got a ticket to a sample class during one of the community expo/showcases held locally. The Club Pilates runs a special 30 minute sample class for a group of people who have expressed interest. There were 8 people in the class, including me.
Facility Set Up
The facility location is in shopping plaza. The exercise room is set behind the front desk and has a wall with curtains to separate the waiting area from the work out area. You put your personal items in open faced wooden cubbies that are located up in the front. Because a curtain separates the front from the workout area, I wouldn't be able to keep an eye on them, so I ended up keeping my phone and keys with me in the work out room.
Each personalized station is set up for one person. And I believe that there were 12 stations in the club.
Instructor
Our instructor was a former ballet dancer, who was in terrific shape. Unlike many group exercise instructors, he had us do the exercises very slowly so he could monitor and correct our form.
He explained what the benefits to the body Pilates provided and discussed ways to modify the exercises to be more or less difficult depending on each of our fitness level and experience with Pilates type exercises. Because it was only a sample class, he was going easy on us.
Equipment
There was lots of very new equipment in top condition. If I wasn't familiar with it, I might have been intimidated. Among the items at each station was a Pilates reformer machine, bosu, TRX straps with several places to hook them, circle, a small stability ball and a Pilates chair.
The only piece that was new to me was the Pilates chair which looks a bit like a padded bench with springs. They had the bosus sitting on top of the chairs and I didn't get a great photo of them, but click through on this link to see what they look like and how they work.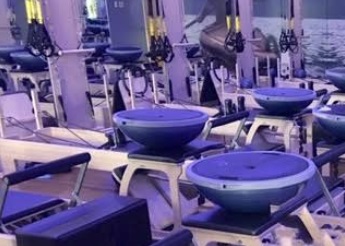 They insisted you wear socks with non-skid treads or they would let you buy some from them. I noticed two people wearing some Sky Zone trampoline park  socks. I had looked for some of those in the bottom of my sock drawer, but couldn't find my pair from the time I tried Sky Zone.
Exercises
While the majority of the exercises involved putting your foot in a strap and manipulating the spring under the equipment, many of the exercises were similar to ones that I've done in my gym.
Plank – with elbows on the bosu
One foot on the bosu, knee up, balance by touching the wall
Bridge – lying on my back with arms at the sides
Sit on the padded Pilates stool, bend sideways at the hips and press down the spring loaded bar with my hand
The ballet move where you stand and Plié slowly. It's definitely NOT a squat.
Evidently ballet dancers have issues with squats and prefer the Plié where the dancer stands with the heels together and the toes pointing out, then and bends at the knees.
Individual Training Room
After the sample group class, we were ushered into the back to see the individual personal training area and equipment. There are sales person explained the different membership programs, pricing, requirements and time frames.
I remember she said that they gave a discount to veterans, those in the armed services and to first responders. I thought "Wow, very generous!"
Then one of the women in my class piped up and wanted to know about doctors and nurses as well, "Don't forget about us!" I don't know why, but that was a turn off to me. I guess you could make a case for a lot of other professions as well.
During the hour that we were there, that is the only thing that I can remember that any of the other people who didn't work there actually said. It was a very quiet group.
The biggest positive is the equipment. It looks super brand new like it has never been touched. I believe that the facility opened in September 2018, so it still is very new.
The biggest negative to me is the lack of interaction between the other people. Even though it was a group class, during class it was obvious that there isn't the joking around. It was very serious and not as much fun.
While I guess I shouldn't judge the place on how the participants act. Maybe that is how you act during Pilates.  However to me if working out isn't something that I look forward to, I'm not going to do it.
Perhaps I'll give Pilates another try sometime in the future. Right now it didn't have the attraction to me compared to so many other types of exercise. How about you? Do you love Pilates? What do you love about it?