If you're like me and your legs get stiff from driving too long, you might enjoy taking some time and rejuvenate with a hike. This little waterfall treasure is an oasis located in Rockwood, Pennsylvania, which is about 10 miles south of the Somerset exit #110 on the PA turnpike.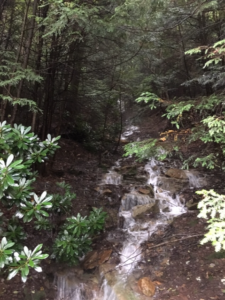 Why was I in the middle of Western PA taking a photo of this little waterfall? It was part of an annual tradition of Sisters Weekend. You see, I grew up with three sisters. We are close in age – my parents had four daughters within five years – and even now, we are still close to each other, although the miles separate us.
The four of us try to meet up once a year to reconnect. Usually we pick a place that is about halfway from our houses. This year only two of us could make it, so we skipped the regular routine of a Somerset hotel and instead experienced the fun of a vintage Bed and Breakfast.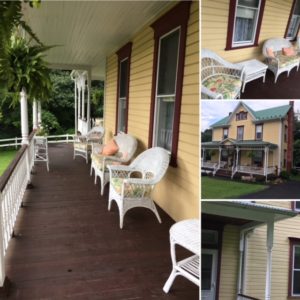 The Gingerbread House B&B has little outdoor sitting area with a bike stand just behind the house.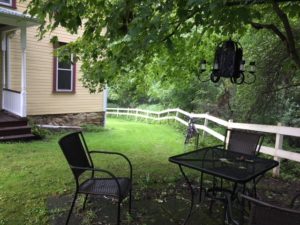 The B&B we selected is just a few steps off the GAP – the Great Allegheny Passage – which is a bike trail that runs 150 miles all the way from Pittsburgh, PA to Cumberland, Maryland.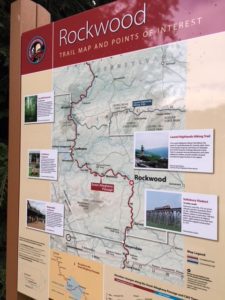 I think it is pretty neat that the GAP connects to the C&O Canal trail and you can ride all the way to Washington DC. The other B&B guests told us it is generally a 6-day bike riding trip to do the whole thing.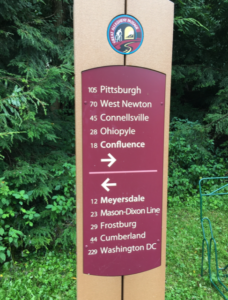 Although I didn't bring my bike on this trip, my sister and I did get a chance to experience it, when we walked along the GAP.
Like many small towns, there wasn't a lot of activity – just a couple of small restaurants, some small town shopping and a convenience store, but it had a bike shop right off the trail!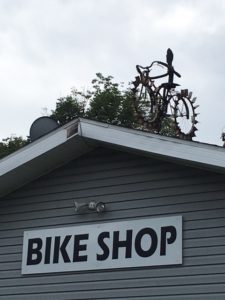 The hike was just what I needed. It felt so good to stretch my legs and do some walking and talking… especially after sitting in the car for hours to get there, followed by even more sitting at the restaurant for lunch.
The cool waterfalls send off a mist that felt so refreshing. I find there is something really soothing and relaxing about running water!
Hiking in Western Pennsylvania is especially enjoyable. For walking on the GAP, you only need some sneakers or walking shoes, not hiking boots. They do a great job of maintaining it. There are lots of little streams along the trail and the experience makes you feel like you are in the middle of the forest… but without the challenging terrain of rocks, roots and trees to dodge.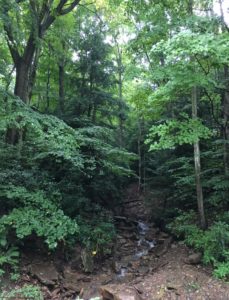 Bike riders take this path because the surface is a crushed stone and asphalt, built on top of what used to be the path of the railroads.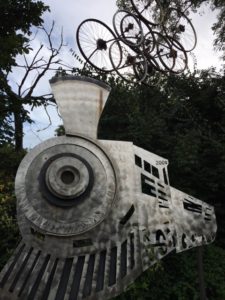 During our hike we actually saw a lot more walkers than bike riders, but I think it was because we walked during late afternoon.
It's funny, after doing a lot of driving, I felt tired when I got there, but soon after going for a 3-mile walk with my sister, I got my energy back. Does that happen to you? – Chris
Do you find that using energy gives you back more energy? Have you had good experience staying at a B&B instead of a hotel chain? How do you work in some exercise during a weekend away from home? Who else has a family tradition to stay close to siblings? Leave a message below or more privately on Facebook group.