These salmon veggie patties are great. For one reason, they don't have filler or, at least, no bread crumbs, no ground pork rinds, and no almond flour. Just do a search on salmon patties and you'll see what I mean. Instead, these patties have vegetables as filler. I think you can make great salmon patties using vegetables in place of the crumbs.
As usual with my recipes, feel free to swap in what you have and leave out what you don't have.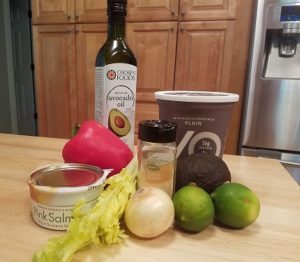 Salmon Veggie Patties Ingredients
1 can salmon
1 to 2 eggs, depending on consistency
½ cup diced onion
½ cup diced celery
½ cup diced bell pepper
Salt and pepper
Garlic Powder
Oil for frying
Avocado Lime Sauce Ingredients
½ to 1 Avocado
Lime Juice
2 Tablespoons Greek Yogurt or Mayonnaise
1 Clove garlic, crushed
1 Tbs. Parsley or Cilantro
Directions for Salmon Veggie Patties
Drain the salmon and break into chunks in a small mixing bowl.
Whisk the egg and add to the salmon.
Add the vegetables and mix well.
Make the patties and let them sit for a while. if you're letting them sit more than 5 or 10 minutes, refrigerate them.
When it's time, heat oil in frying pan.
Gently place patties in pan. After about 5 minutes or when the side is nicely browned, flip and cook the other side.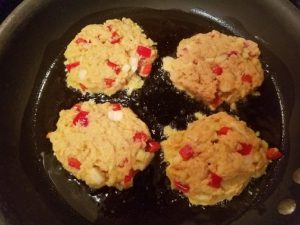 Directions for Avocado Lime Sauce
Blend the ingredients in a blender or food processor. Add more juice or yogurt/mayo to taste and to get the consistency you want.
Serving
Serve the patties on top of some greens and spoon some of the avocado lime sauce on top.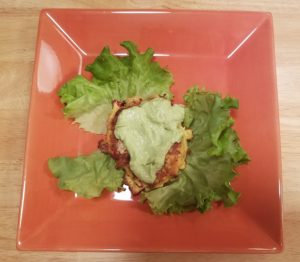 Notes:
I'm using a 6 oz. can of Wild Alaskan Pink Salmon. If you use the larger can of red salmon, double the other ingredients.
I had red bell pepper on hand. Use green if that's what's in your fridge. I think you could easily add different vegetables to these. Just make sure they're chopped into small enough pieces. I think spinach might be an excellent addition.
You can fry these in olive oil, butter, ghee, coconut oil or avocado oil. If you eat peanuts, peanut oil would also work. Use the oil you prefer.  I'm experimenting with avocado oil and it seems to have worked well,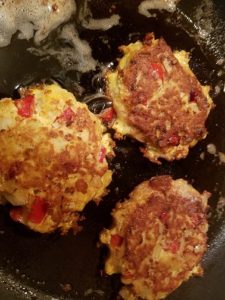 Because there is no filler added to these, the patties will be sloppy. Don't fret over it, just fry them up.
If you like spice, feel free to add more spice to the patties. Cumin and turmeric might be good choices.