It seems that a quarter folded wrap is the newest thing in sandwiches. Or maybe I'm really late to the party.
I wanted to try a folded wrap sandwich using a tortilla.
It's really quite simple. Prepare your ingredients and have them ready to assemble into the quarter folded wrap. I burned my first one because I didn't have everything ready the first time.
Heat the griddle on medium low. You can spray a little olive oil if you want. Place the tortilla on it. Slice the tortilla from the center to the side.
I find it helpful to picture four quarters. Fill three of the quarters with food. I used mozzarella cheese, tuna salad and spinach. The warm ingredients (cheese) are assembled first (so it can melt) and the cold ingredients are assembled last (so they don't get too hot!)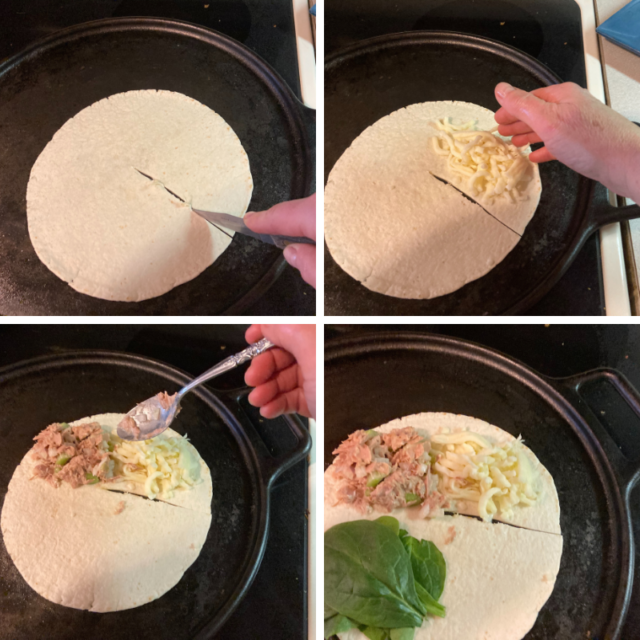 Because the cheese needed to be cooked the longest, I put that into the tortilla first, but it became the last quarter to be wrapped.
Flip the empty quarter over the spinach. Then flip the folded spinach part over the tuna salad. Last, flip the spinach and tuna salad over the cheese. I have a quick one second video that shows the flipping. It's easy once you do it, but maybe hard to picture if you've not seen it before. I know the video flipping helped me to visualize how to do it.
Folding the Quarter Fold Wrap
Click the one second video to see how the folding works. It would have been so much easier if it was only a egg salad sandwich with a tomato garnish and a spinach garnish, but because I wanted melted cheese, this involved trying to get the cheese in the place where it would melt and also not have the tuna salad fly out when I was folding the quarters.
Of course I made it harder because I wanted it to be a grilled cheese, tuna melt… not just any sandwich.It's not real easy folding tuna salad!
I feel I should have started with a beginner sandwich, not a grilled tuna melt!

Do you make quarter folded tortilla sandwiches?
What's your favorite?