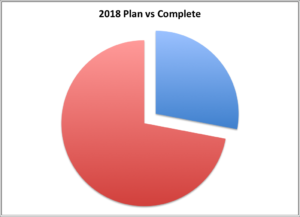 I'm feeling new inspiration.  Why? With 100 days into 2018 already, spring is here and winter is behind us (hopefully.)
Best of all… the Becoming Elli Facebook Closed Group is active now. Jill and I have had a dream of finding more women like us who are working on becoming (and staying?!) fit and strong. We started this website and our podcast series to provide a place to connect with others who may have some of the same struggles, concerns and goals as we do.
To that end, we are encouraging you to join the Becoming Elli Facebook Closed Group as a way to connect with other like-minded women.
Why I am personally excited about the Closed Group:

I've found I have to keep an eye on my weight – it is a still a struggle for me  – and other women are going through the same challenges.
Having friends and acquaintances (or even strangers who I have a lot in common with) who are going through the same things gives me the feeling that I'm not alone in my struggles.
I've found that I will do exercise when it is fun, I know I won't get hurt doing it and I have other people who are "in it" with me.
A closed group offers a more open conversation. It's easier to discuss something on the internet when I know it's not wide open to the world.
Sometimes just one person telling me "you can do it, I know you can." gives me the added incentive to do what I'm trying to accomplish.
Hearing about someone else's challenges and what they are able to overcome really motivates me
Why you may be interested in joining the group:
Motivation/inspiration
Looking at things from another angle makes a difference.
New ideas are helpful and reinforcing your existing ideas helps too.
Taking steps to do the action plan for a dream or a goal you're working on feels really good.
You can have questions answered – or discussed with pros and cons – find others with the same concerns
Celebrate your "wins" – with weight loss, muscle gained or challenges met
Please use this link to join the group.  Jill and I have a few common sense ground rules. We are eager to connect with you. We review and approve each person's membership in the group so that it will not be a public group.
Maybe you are like me and are taking this change of season time to look at where things stand with your fitness.
I'm thinking about my fitness – the half marathon I committed to running is coming up fast. I'm thinking about my weight – ready to recommit to eating right by planning and keeping track of what I put in my mouth.
Meanwhile during this past week:
I've done 2 really strong workouts – the kind that leave you sore the next day in a good way. Not hurt, but my muscles are building.
I was able to get a couple of shorter runs completed.
Jill and I attended a health fair at my gym that inspired us. I found some new ways to maintain better health and we discovered some new podcast topics. While at the health fair, we took advantage of some free screenings.  I was excited to see good test results on blood pressure and bone density, but I found I still have a lot of muscle to gain! More about all that in a later post.
If you live anywhere near me in Ohio, you may be excited that the weather has actually become spring. I'm going to wrap up this post so I can get outside and enjoy the weather. I better be fast to beat those April Showers!!
Don't forget to connect with us with the new Facebook Group. – Chris
P.S. Leave a message in the Becoming Elli group about why you've joined. I'm eager to hear from you!