I figured I'd try some unrolled cabbage rolls because someone was telling me that they are so easy to make.  They were right! While my first Instant Pot recipe attempt was yummy, it didn't turn out the way it was supposed to, because I "adjusted" the recipe so many different ways.
I usually go grocery shopping on Sunday evening and I wanted to clear out some of the refrigerator before I got back from the store. Since the weather was nice and rainy, I figured a warm, hearty serving of Unrolled Cabbage Rolls would be great.
To start, I googled "cabbage, beef, instant pot" and got lots of choices of recipes. Each sounded better than the next. I picked one that sounded good and started sauteing the beef while I cut up the vegetables.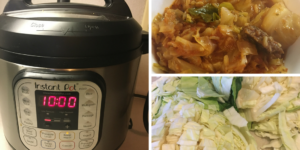 Here's a few of the ways I modified it:
Onion was missing, I thought there was still a half somewhere in the fridge, but it got used up on Saturday
Substituted a jar of pasta sauce for diced tomatoes
Missed out on the Worcestershire sauce
Added more cabbage than the recipe called since, I had it all chopped up
Skipped the raisins
Only used about half of the brown rice, since the bag was almost empty
Made chicken broth in the VitaMix to use up the left over chicken meat/stock that was cooked on Friday (instead of using beef stock)
I like how you put everything into one place, press a few buttons, add a bit more and put the lid on to cook. That way, when you come home, it's all ready to serve. The Instant Pot automatically keeps the food warm until you're ready to eat. This recipe makes lots of leftovers too which is a big win.
Even with all these revisions and modifications, dinner was delicious.  Filling and satisfying on a rainy Sunday!
Do you use an Instant Pot? What's your favorite recipe?