Are you wondering about the Big Ass Salad?
During our recent podcast interview with Pam Sherman, she mentioned that she has a salad every day.
Not just any salad, but one she refers to as the BAS! The Big Ass Salad. She says the cabbage is more filling than a spring mix.
Jill and I just couldn't let that go! We needed the recipe… and photos!
Thank you Pam for this delicious inspiration!!
Here's the recipe for my favorite BAS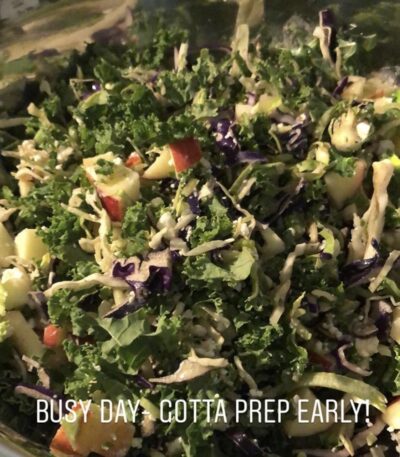 Spinach – I cut this up as I hate big lettuce leaves
Green cabbage – finely chopped
Fruit – in the winter I use apples or pears, summer, any berry is fantastic
Nut – we love almonds and pistachios but any nut works great
Cheese – crumbled goat is our go to!
Balsamic onions – cook onion until soft(either red/yellow work), add balsamic vinegar and cook down until vinegar is absorbed into the onion.
I do take kitchen scissors and chop up everything finely- it makes it so much easier to eat!
For my Big Ass Salad dressing I use..
1 cup cashew/almond milk
1 Tbl honey mustard
1/2-1 Tbl chopped garlic
few shakes of coconut aminos- worchestershire works as well
1/3 cup while balsamic or red balsamic
1-2 Tbl of hummus to make it creamy!
Mix all in magic bullet or blender.
Enjoy!!