We enjoyed a veggie salad at Lake Erie. This time I cheated a little.
Once again I made my famous fresh chopped vegetable salad with olive oil, lemon juice and cider vinegar dressing. It was the perfect salad for staying cool up at Lake Erie. My sister in law made a cucumber salad was really delicious too. Always great to get your vegetables when you're enjoying the breezes at the beach!
Salad at Lake Erie
Time was of the essence when I was getting ready, so I decided to "cheat" a little by starting with several vegetables all ready to go ahead of time.
My local grocery store sells a type of broccoli slaw in a bag that contains a chopped blend of vegetables. They called it "Rainbow Blend".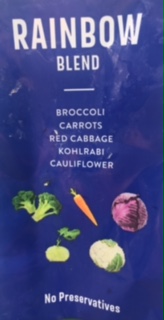 Broccoli
Carrots
Red Cabbage
Kohlrabi
Cauliflower
Grabbing that bag and using it as the base saved me some time, although I chopped all of the rainbow blend much finer so it would have a better consistency in my salad.
To those vegetables I chopped and added:
onion
celery
red pepper
yellow pepper
orange pepper
cucumber
I opened and drained a can of garbanzo beans also known as chick peas to add some protein. I also added about a cup of cooked quinoa for more protein.
Tossed together with salt and pepper.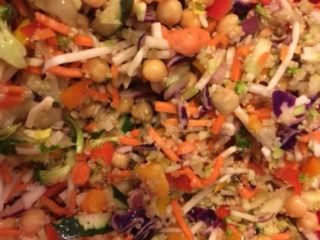 Delicious and super healthy!