Riced cauliflower has the advantage of looking like a grain and taking on the flavors of spices and other ingredients. It's a lovely way to "veggie up" a meal without realizing that you added a whole lot of fiber and nutrients without adding tons of calorie dense pasta or rice.
The downside of riced cauliflower is the mess. When I used my grater to rice the cauliflower, it was all over the place. I'm going to try again with a different, more careful plan and will post photos then. A head of cauliflower here in Ohio in the winter is around $2.50 or $3.00 depending on the size and the store.
Easy Short Cut: Meanwhile, you can take the easy way out, by buying frozen riced cauliflower. Seasons Choice brand from Aldi, for around $2 for twelve ounces.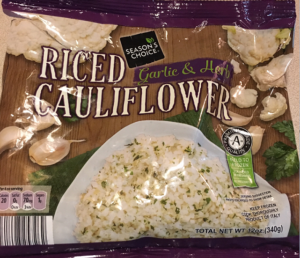 This version had some garlic and parsley added to it, but they offer a plain version too.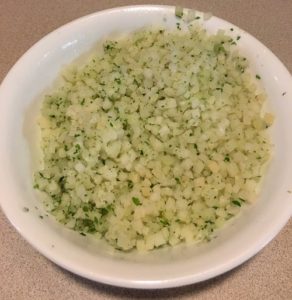 The parsley adds a nice color balance, because when served plain, it's kinda drab.
Here I added some riced cauliflower to a warm veggie salad.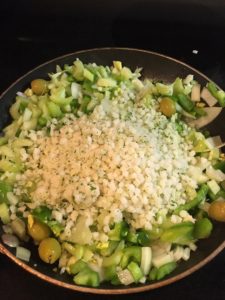 (chopped onions, peppers, celery with about 6 olives thrown in for flavor) and it tasted great! Next time I may add some tomatoes or other color for more visual appeal.
I will definitely add riced cauliflower to my on-going veggie list.