When I'm talking about quick and easy vegetable ramen soup, I don't mean the cheap packets of ramen I used to buy for a very cheap meal. Though I suppose you could certainly use those noodles to make this soup and they would work just as well. I don't know about those packets of seasonings though. They may be a bit suspect.
I bought a large package of gluten-free organic millet and brown rice ramen noodles at Costco. They're quick and easy to make and here's my take on a quick and easy soup.
In one of our recent podcast episodes, Chris and I discussed this year's veggie challenge. Chris said she was cheating because she was using large bags of frozen vegetables to get in those extra servings of vegetables. I said making something easy isn't cheating. So, this recipe is one of those. I bought a giant bag of stir-fry vegetables (also from Costco) and used that in this recipe.
I also bought a box of broth called Ramen broth. It's very good. I did not buy it at Costco but at a regular grocery store.
You could add some hot sauce to the broth or a bit of sesame oil. The Ramen broth was good so you don't have to add anything unless you want.
I added some cooked chicken to the soup as a protein source but you wouldn't have to do that. You could probably add some cubed tofu if you wanted a vegetarian option or just omit the protein all together.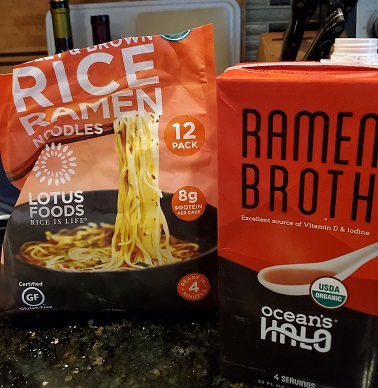 Quick and Easy Vegetable Ramen Soup
Feel free to make any changes you want to this. It's basically a quick, throw-together kind of soup.
Ingredients
2 cups Ramen Broth
1 brick of Millet and Brown Rice Ramen
2-3 large handfuls of frozen stir-fry vegetables
1/2 cup chopped cooked chicken
Directions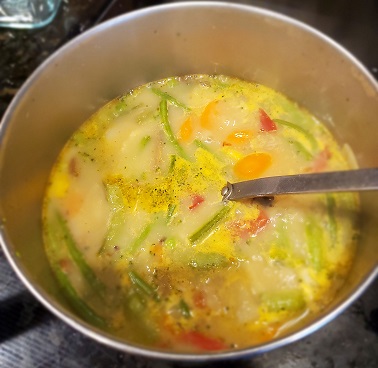 Heat the broth in a medium saucepan.
Add the frozen stir-fry vegetables and let simmer for 5 to 10 minutes.
Stir in the cooked chicken.
In a separate pan, bring water to a boil. Add the brick of ramen noodles. Cook for about four minutes. Follow the directions on the package. Drain noodles and place in a serving bowl.
Ladle the broth and vegetables over the noodles and mix.
Enjoy the soup! If you haven't achieved the perfect ratio of broth to noodles, feel free to add some more broth and vegetables to the remaining ramen noodles.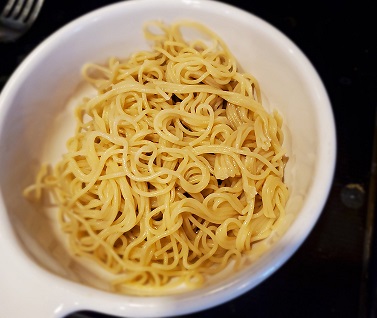 This is a very quick and easy vegetable ramen soup. If you try it, let me know what you think.