I am loving my new creation of cucumber chicken salad!
What is your favorite way to make Chicken Salad? I have found that I really like having chicken salad made with cucumbers, olives, a little celery and onions.. and just a bit of cheese. Sometimes I'll put in Parmesan cheese, other times feta cheese.
I've also made this type of cucumber chicken salad by adding a lot of broccoli slaw, but I end up really dicing the broccoli slaw a lot so that it doesn't have a large ribbon of broccoli. I think it fits better with the bite size pieces.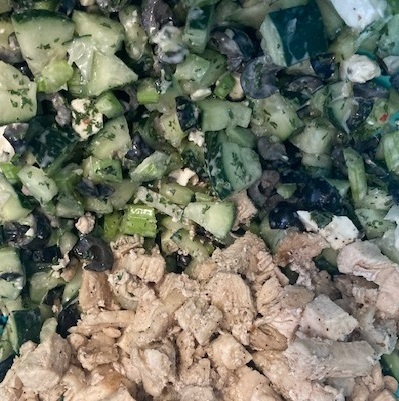 Spices I like are dill and parsley with a little bit of regular salt and pepper as well. This time I just used lemon juice and vinegar – the same juices as I used to cook the chicken breast in the crock pot before making the salad. No waste!
The cucumbers make this cucumber chicken salad part of the #veggiechallenge for me because it helps me eat some delicious vegetables without even really thinking about it.
Please let me know your favorite chicken salad recipe! Is it with or without cucumbers and olives? Leave a message here or email me at Chris@becomingelli.com