Bean and Vegetable Reunion Salad
This salad was made for the family reunion I attended on Saturday. Of course I made something for the veggie challenge. Although there are not any new vegetables in this salad, all the fresh vegetables are balanced with lots of protein with many types of beans. It makes the salad more colorful, too!
Delicious, pretty and healthy!
I made a whole lot of this salad and only about half of it was eaten. There were about 75 people there, so I expected to see more of it gone. My son said that people are "afraid" of vegetables. I'm not quite sure what he means by that. I think maybe they were more afraid of the beans and the potential for gas. I do know some people don't each much fiber and something that has as much fiber as this salad is too much of a risk for them. Meanwhile, all the fried chicken, sausage with sauerkraut, sloppy joe, pulled pork, pizza and fudge was devoured.
I like to prepare this salad in a huge bowl so it is easy to mix, without all the ingredients falling onto the counter top. I open the cans (for the beans) or chop (for the vegetables) and add each item as I go. Because I find that it is too easy to mix too vigorously and break the beans or mush the vegetables, I like to remind myself to just "turn" the ingredients, instead of mixing the ingredients.
Beans:
Open each of the 15 oz cans, drain, rinse and rinse again.
Pat dry the beans to eliminate the extra water before adding to the mixing bowl.
Black beans
Kidney beans
Garbonzo beans – also known as Chick peas. I used 2 cans in this salad
Cannellini beans – Put these in last because they break if they are stirred too much
Vegetables:
Chop each vegetable so it is smaller than bite size.
Sweet onion
Red pepper
Yellow pepper
Orange pepper
Green pepper
Celery
One can of corn
Usually I don't add corn to a veggie salad, but for this bean and vegetable reunion salad, I think it needed the color. Corn looks good against the black and kidney beans.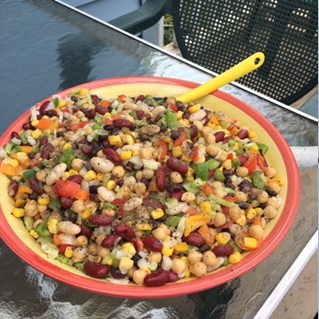 If I was going to do it again, I'd add a peeled and seeded chopped cucumber, along with chopped olives and grape tomatoes quartered.
Dressing:
Olive Oil
Cider Vinegar
Lemon Juice
Generously pepper the top. I skipped the salt because there were so many items from cans which tend to have lots of sodium.
Mix (turn) it all together and refrigerate overnight. This gets all the flavors melding together. Place into a pretty bowl. This salad traveled well sitting on an ice pack with another ice pack on the top. While this salad doesn't technically have to be refrigerated, I think this bean and vegetable reunion salad tastes better when it is somewhat chilled.
The temperature at the outdoor family reunion was in the high 80's, so I was glad I brought something that could be on the table without worrying if the dressing had turned.
What is your favorite dish to bring to a family reunion?