I love the outdoors and a winter walk in the woods, but it's difficult to get out and walk during bad weather. I've managed to find a window of opportunity just a few times this winter. Last weekend was one of those.
While snow was in the forecast, the sun had peeked out for a few minutes and I just couldn't help myself. Gathering the dog leash and my 8 year old dog, Lady, off we went to walk the loop around the lake.
Checklist:
Dog leash
Dog
Gentle leader (this is a special collar so she doesn't pull)
Dog poop bags
Fanny Pack
Bee sting kit (not likely, but I don't leave home without it!)
Phone
Spread the tarp-like cover over the back seat to protect from sandy paws
Hat/gloves/two heavy sweatshirts
Running shoes
The start of the walk felt so familiar. In the 27 years since we moved back to Ohio, I've probably hiked this route hundreds of times. The parking lot was practically empty with only one child and their attentive dad on the playground and a bundled-up dog owner bringing their labradoodle pooch back from walking the loop.
Nonetheless, I set out and the pea gravel crunched under my shoes. Canada Geese walked on the ice covered water. I half expected them to be swimming in places, but there was more ice than water. A couple walked past me saying "Good morning," but then corrected themselves – "I mean good afternoon!" Funny, with the grey skies encompassing us, it sure felt more like morning. What had happened to the sun?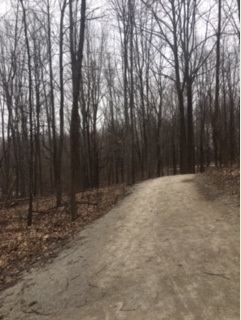 Entering the wooded part of the trail, I saw a lot of sawdust. The windstorm a week or so ago had caused several big trees to fall, but the clean up was complete. The trail was wide. In fact, much wider than I remembered. Maybe it just felt that way due to the lack of other people. It was definitely wide enough to drive a service truck along the entire path.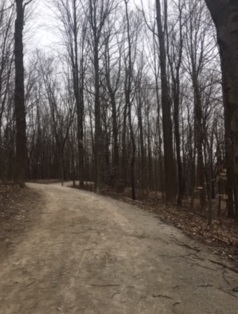 Walking up the grade, I could feel my Achilles heel start to twinge. Geeze! I have hardly pushed it at all this past fall and winter. Not any tough work outs at all, just a lot of strengthening PT type exercises. How could it start acting up already!?!?
As the trail leveled off, my thoughts left my ankle and returned to enjoying the nature walk. No leaves meant that I could see through the woods to catch glimpses of the Interstate or look directly into people's back yards. I wonder how those families feel about looking out from their dining room table and seeing the hikers walking on the trail?
Ugh Oh!! Did I see a snow flake? And another? Must have been my imagination. I passed the halfway point. Walking down the the hill, I passed a solitary figure walking with hands in his pockets. Must have forgotten his gloves.
I noticed the trail's shortcuts into the neighborhoods have been cleared of snow and the pea gravel is packed down. I stay on the main trail with Lady. More flurries fell.
A white tail deer was right in front of us. Startled, she lifted her little white tail and bounded off toward the houses. I think Lady was startled too. She didn't bark or pull on the leash, but her ears and tail lifted and I felt that she was as surprised as I was by how big and close that deer was!
Heading up the hill from the creek bed, squirrels rustled in the leaves. Lady began panting and I realized that I need to bring her out on this trail more often. She hasn't been keeping up on her cardio! She's only 40 in dog years and somehow I feel superior because I'm not huffing and puffing. I'm thankful for my indoor cycle spinning class at the gym!
Big flakes of snow started coming down. Where did this come from? I thought we had another hour or two before this weather was due to blow in! "No worries," I said to myself, "Only three-quarters of a mile before we're back in the car."
As we finish the loop, we pass the same walker with his hands in pockets again. I say "Another loop?" and he replies "Why not!?" I'm already wanting to go around again. For a second I briefly consider it, but my Achilles told me that one loop would be enough. Although the cardio was ready and the muscles were ready, my tendon still needed more work.
I feel like this walk was my kickstart for spring!
I saw the smile on Lady's face through her panting. Yep, that smile was how I was feeling too!
Daylight savings time starts this weekend. Spring is on it's way!!! Just a few weeks and I'll be able to do that trail without double sweatshirts and gloves!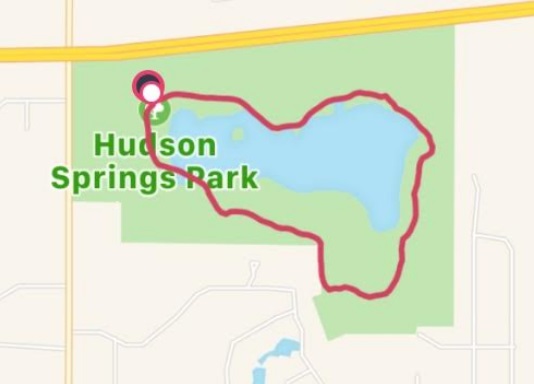 Although this trail was just under 2 miles, getting outside and walking the loop helped me hit my fitness goals for the day.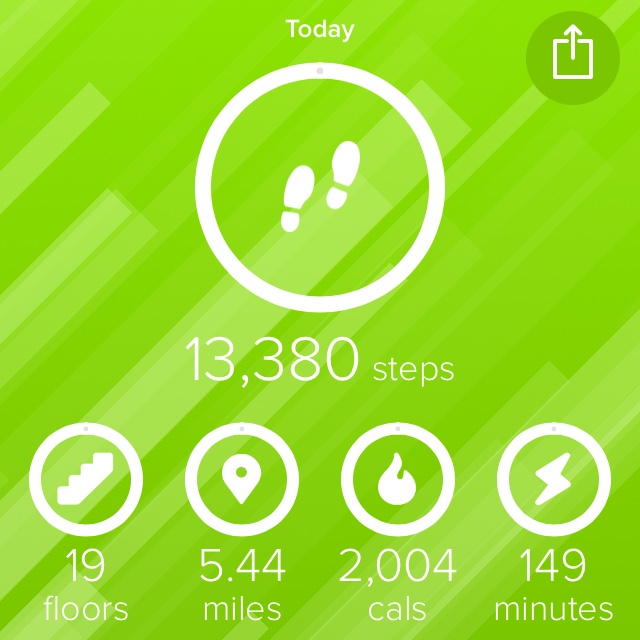 Walking the loop also lifted my spirit and I know Lady loved it too.
What fitness activities help you to transition from winter doldrums into spring?