This recipe for Stuffed Cabbage Rolls is made from cabbage leaves and is sometimes called "Pigs in the Blanket" or "Rolled Cabbage."
I know if I call it Pigs in the Blanket, most people think of those little hotdogs in a rolled up piece of dough… This is NOT that recipe. I'm not sure when that name turned into hotdogs, but somewhere along the way I missed it!
I was born in western PA and grew up in northeast Ohio, where this was called Pigs in the Blanket at potlucks or other gatherings. It really is rolled up cabbage leaves stuffed with rice, veggies and meat, covered with tomato sauce.
Now you can go wild making this into a major process where you cook your own sauce and spend lots of time on the stuff part of the cabbage. I like to keep it simple.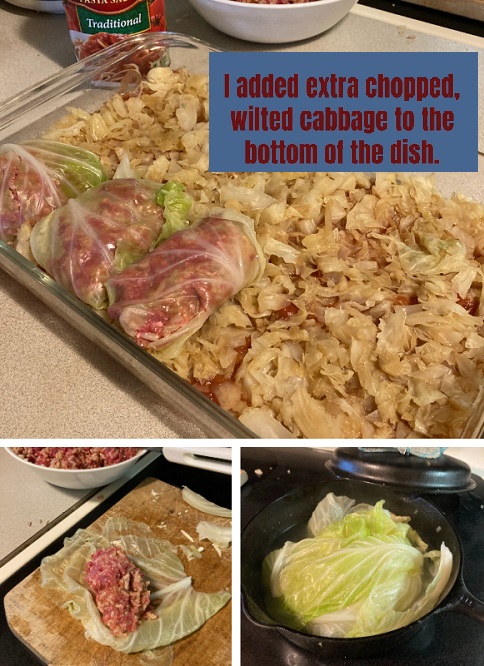 Here's my recipe for Stuffed Cabbage Rolls:
Ingredients: cabbage, onion, brown rice, hamburger, tomato sauce. (Some folks also use sausage and I think that's the pig part of the name pigs in the blanket. I prefer beef instead of pork, but that's just me!)
Core the cabbage. Peel off leaves as big as possible.
Steam the leaves. (Some people freeze the cabbage and then let it thaw. I've never tried that.) I actually boil leaves in water while I'm cooking some brown rice. Remove the cabbage leaves when they are pliable. I use tongs because they are hot. Set aside and let them cool.
Pour tomato sauce in bottom of 9×13 pan. I used about a third of a can of Hunts traditional tomato sauce.
Cut up the cabbage core and the little left over parts of cabbage that didn't come out as good leaves… chop into bite size pieces, cook in the water. When they are a bit translucent, lay them on top of the tomato sauce. This uses up the rest of the head of the cabbage.  The bottom of the dish is lined with the cooked cabbage.
Drain any left over water. Chop and cook the onion until translucent and put into a bowl. After rice is cooked combine the chopped onion, cooked brown rice and raw hamburger. Salt and pepper.  Add a little less than a third of the tomato sauce to mixture.
Now it's time to make the blankets. Use tongs to remove cabbage leaf. Spread on a cutting board and trim that little hard part of the stem so it will fold easier. Make a small oval ball of rice/onion/beef mixture and place on on leaf. Wrap leaf around the hamburger rice onion mixture.
Line pan with the pigs in the cabbage blanket.
I figure about 12 cabbage rolls for one cabbage, depending upon how big my cabbage was.
Pour remaining sauce on top. Cover with tin foil.
Bake at 375 for about an hour. Uncover for about 15 more minutes to brown. After you take it out, let it rest for a few minutes so it can cool a bit before serving. Delicious!!
Remix: Here's a different version of the same recipe with just a few changes.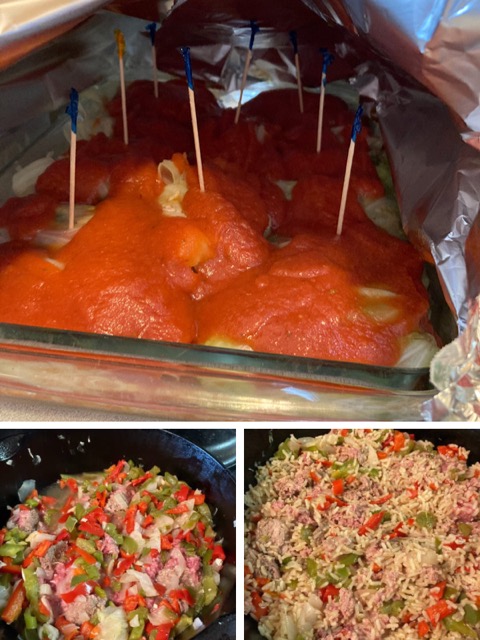 Another time I made these cabbage rolls, I really upped the veggies. Instead of adding just an onion, I used a whole bag of frozen green and red peppers with onions. I chopped up the frozen veggies and mixed that in with the meat and rice. I also added an egg to hold it together better. This made more filling so in turn it made more cabbage rolls. The last few rolls were actually made up of pieces of cabbage leaf, because all the whole leaves were gone. I also used some toothpicks to hold the tin foil off the cabbage rolls.
So do you ever make this? What do you do differently?? Leave me a message at Chris@becomingelli.com or in the comments below.