I didn't realize that fall is my favorite fitness season until I sat down to write a blog post. I thought, I'll write about how the fall season is a great time to change up my fitness plans. When I did a search for other blog posts I might have written, I found these posts:
2018 Ten Tips for Fall Fitness
2019 End of Summer
2021 Running in the Fall with My Dog
Apparently last year (2022) I was more focused on food than on fitness because I wrote about roasting pumpkin seeds in the air fryer.  This is a good reminder that I should get a pumpkin to carve this year.
In 2017, which I believe was the year Chris and I started the Becoming Elli website, I wrote a couple of articles about running in the Akron Marathon. That year we ran the half marathon and had a fantastic time. I guess it makes sense that I was focused on the race and not on the season.
Here it is, 2023 and I guess it's time to write another blog post about fall, my favorite fitness season.
Here in Ohio, September and October tends to be great months, weather wise. The temperatures are warm during the days and cool at night. We often have clear blue skies and of course the flowers are in their end of summer glory.
It's a great time to go hiking. I'm lucky to have some wonderful park systems in the area. There are parks run by the local communities, the country metro-park system, and the Cuyahoga Valley National Park. All of them have fantastic hiking trails. I also live by a bike and hike trail so I'm usually on that every morning for Penny's daily walk.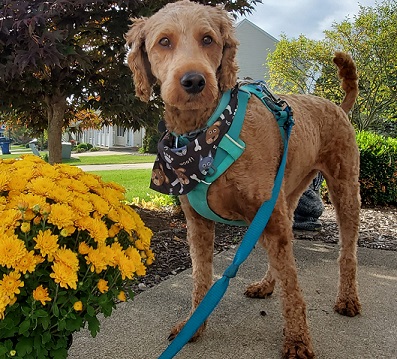 I explored some of the trails a bit further from my home. It's rewarding to get out and see a new area while hiking.
I also started back to my gym. I took a couple of months off because I was traveling and decided to save some money. Returning to the gym has been so enjoyable. I'm trying a fresh approach to it this time. I've tried some new classes and thinking about what I want to resume and what I want to change.
I did not do much bike riding this summer so perhaps I'll try to get in some rides before the weather changes. Once it gets cold and dark, I'll have to resume my indoor bike riding.
Right now, I'm feeling energized and it's showing in my activities.
It also occurs to me that I should visit a local orchard. Ohio produces fantastic apples and it's prime apple season right now.
Lots of excitement in this time of year and fortunately it's not nearly as food oriented as the holidays in winter.
Let me know how you handle the change in seasons. I know many of you live in warmer (or colder!) climates so perhaps fall isn't as exciting a time.