It's that time of year again when we grab some pumpkins and carve them into jack o'lanterns. We had a little pumpkin carving party at my house recently. You can see the results of our handiwork in the photos above and below.
We carved four pumpkins and I took all of the seeds to roast.  I basically followed the recipe I posted a few years ago about roasting squash seeds but decided to try using the Air Fryer instead of the oven.
I will say that making roasted pumpkin seeds in the air fryer worked well. The seeds turned out well.
First, I washed the seeds to get the goopy pumpkin strings off of them and then I boiled them for a few minutes.
I then poured the seeds into a colander and then into a towel to dry them.
I put the seeds into a bowl and coated them with about a tablespoon of avocado oil and some sea salt. You can use whatever oil you want on the seeds. Some people coat the seeds in melted butter which probably gives them a richer flavor. I was worried that seeds cooked in butter wouldn't last as long as ones cooked in oil so I stuck with the avocado oil.
I then cooked them in the air fryer for about 10 minutes at 375°, shaking them at about the halfway point.
The air fryer worked well. It was very easy and didn't take long. I think roasting in the oven is a longer process. The only problem with the air fryer was that the seeds fell through the base into the bottom of the pot. They were fine, despite falling, but it seemed a bit odd. I guess since the seeds didn't really cook on the base, I could have just covered it with some foil or parchment paper.
Because I cooked the seeds from four pumpkins, I had a lot of them. So, I ended up roasting the seeds in two batches.
Recipe for Roasted Pumpkin Seeds in the Air Fryer
Raw pumpkin seeds, as many as you have.
Oil (Olive oil, avocado oil, even melted butter. Use your preferred oil.)
Salt
Any other spices you want to use.
Wash the seeds in running water. You can let them soak for a while first to loosen the pumpkin strings and glop.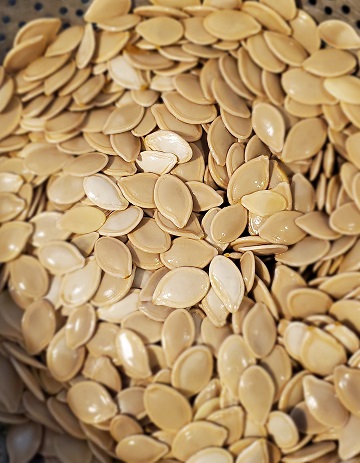 Bring a medium pot of water to a boil and add the seeds.
Simmer for about five minutes.
Drain the seeds and then dry them by wrapping in a clean dish towel or paper towels.
Put into a small bowl and mix with the oil, salt, and any spices you like.
Put into the air fryer and cook at 375.
Cook for about 10 minutes or until the seeds have reached a crunchy, roasted state.
Shake the seeds around about half way through the roasting.
That's it! A batch of crunchy roasted pumpkin seeds, full of vitamins, fiber, and tasty goodness.