I had an awesome lunch over the weekend of veggies with protein. It was delicious. It seems like all the vegetables are becoming ripe and are really tasting especially good to me right now. Maybe it is just that time of year!
By this photo you might think I didn't get enough protein ,but I added a couple of ingredients at the end of cooking and after I took this photo that really boosted the protein levels in my meal.
Here's my recipe for these delicious veggies. No surprise, I sautéed them on the stove.
To prepare this meal, first I pulled out the cutting board and a sharp knife. Heated up the pan with some extra virgin olive oil.
Chopped and sliced the following veggies:
Onions
Peppers: red, orange, yellow, (forgot to get green peppers)
Yellow Squash
Celery
Mushrooms
The onions went into the heated olive oil first because it took them the longest to cook. I sautéd all the vegetables over medium heat and after it started really cooking, I added a little bit of water, then covered it and turned down the heat to low.
I put the mushrooms in very last because they so cook much faster.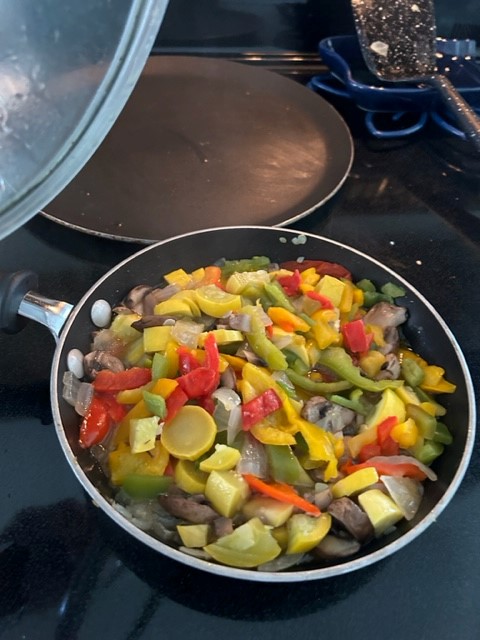 Adding Protein
In order to get more protein I added some tofu and some feta cheese. Tofu has a lot of protein (9 grams of protein in a 3 oz piece.) And the feta cheese added some great flavor. I added a little salt and pepper to taste. This meal was really delicious. Tons of colorful vegetables, so I am "eating the rainbow" and getting lots of veggies. #veggiechallenge2032
These vegetables are are fairly typical, probably the only unusual ingredient was the tofu, which I don't usually have on my shopping list.
Tofu takes on the flavor of the other foods and it didn't take much for it to take on the flavor of the vegetables in olive oil. So if you've thought about trying tofu in your meals, this might be a good way to try it. I usually slit the top and drain it. There's a lot of water in the carton.
I cut it like a checkerboard into probably 25 pieces, at least 16 pieces. And when storing it in the refrigerator, I place it in a gallon zip lock sandwich size baggie. It's got a consistency that is thicker than yogurt or pudding, but similar texture. It's probably not something to eat plain, just by itself unless you really love it.
Do you like tofu? How do you prepare it or add it to recipes? I'd love to learn new ways of eating it as I think it's a really good protein for me.