I am having cabbage soup for lunch today. I made a large batch of soup a few weeks ago and put some containers of it in the freezer to save for later. Today is a cold, snowy day here in Ohio and I'm working from home. I was daydreaming about what I was going to eat for lunch and decided to get a container of soup out of the freezer.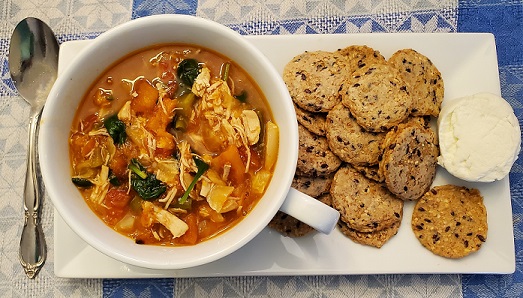 Customizing the Soup
The best thing about this soup is that I can add to it. When I made this soup originally, I added some cooked chicken and beans to the soup.
Today I decided to use up the chopped butternut squash that was in my refrigerator so I chopped it into smaller pieces, coated it with some avocado oil, and roasted it. I intend to add the butternut squash to my soup. I also have spinach in the refrigerator. It doesn't take long to cook spinach so I'll heat up the soup, add the squash, and add a handful of the spinach. That makes a great bowl of soup. If I wanted to add protein, some beans or shredded chicken might be a nice addition.
I make the big pot of soup without adding much in the way to seasoning. I'll add some salt and pepper maybe. When I'm doctoring up the soup for a meal, I can add more seasoning to the smaller bowl. Some ideas on that might be some Italian seasonings or just some oregano with the salt and pepper. Sometimes I add some cayenne pepper to spice it up a bit. I think you could add some taco seasoning to the soup as well. Whatever strikes your fancy will work.
I'll have some Mary's Gone Crackers and goat cheese as a side dish. If you read this blog often, you know that I love those crackers.
I just noticed that we have many recipes for cabbage on the Becoming Elli website and recipes for soup but we don't have a recipe for cabbage soup. The closest thing is Chris' recipe for vegetable soup. So, let me give you my recipe.
You'll want to know that you can swap vegetables in or out of this soup. Use what you have on hand.
Recipe for Basic Cabbage Soup
Ingredients
1 Tbs oil (I use avocado oil)
1 onion, diced
3 carrots, sliced
2 celery stalks, chopped
1½ cups green beans, chopped into 1 inch pieces
1 can diced tomatoes
½ head of cabbage, chopped into small pieces
8 cups chicken broth or vegetable broth
Directions
In a large Dutch oven or soup pot, heat the oil and then saute the onion in it until the onion begins to soften.
Add the carrots, celery, green beans, tomatoes, and cabbage.
Pour in the chicken broth.
Simmer for 10 to 15 minutes until cabbage is tender.
Notes
When you're ready to eat the soup, add whatever ingredients you want.
Suggestions could be pasta or noodles, cooked chicken, chopped sausage, canned beans, greens, cooked potato. Use what you have on hand.
If you add white beans, kale, and some Italian spices, top your bowl of soup with some Parmesan cheese.
If you add chicken and cumin, top the soup with tortilla strips or some cheddar cheese.
Consider your soup to be the base for whatever you want.