This veggie blender dressing makes a big difference. Getting lots of vegetables can be more difficult in the winter months. Yesterday I got an idea on how to increase the amount of vegetables I eat.
So often I make the same veggies, my Brussel sprouts, cauliflower or my easy no panic potluck salad.
I thought, what if I use vegetables as the base of my salad dressing? This is my first attempt. It wasn't bad, but I'm looking forward to making some modifications.
Recipe for Veggie Blender Dressing:
1 large Green Pepper
1 Yellow Squash
1 large carrot
Each of these veggies were rough chopped and placed into the blender (Vita-Mix)
Then I added some liquid: extra virgin olive oil, apple cider vinegar, lemon juice.
I blended the mixture on the smoothie setting and it took about a minute to get smooth and fully mixed.
Pour over a large bowl of spring mix. Toss.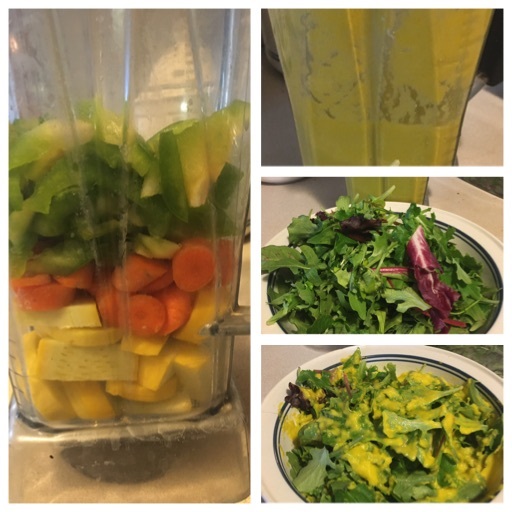 Voila! Spring Mix Salad with a Veggie Blender Dressing. I think this might be really easy and good as a warm dressing over a cooked California Mix frozen vegetable dish.
Have you ever tried using veggies in your dressing? What were your results! Leave a message below.
#veggiechallenge #MoreVegetables