Cooking cabbage in the Instant Pot is so quick and easy. This recipe is perfect for nights when you need some vegetables quickly. One of the things I like about the Instant Pot is that you can cook things quickly and easily. You load it up and turn it on and only deal with it again when the Instant Pot turns off.
I just have to share this recipe even though it's another cabbage recipe. We provide a lot of ways to cook cabbage here at the Becoming Elli website. We've posted recipes for cabbage soup, keto cabbage, spicy cabbage in the crockpot, and others. Just go to the website and do a search on cabbage. You'll see what I mean.
You only need three items for this recipe: cabbage, broth, and butter. That's it. I used chicken bone both but you could use vegetable broth or even water. Beef broth might work too but I've never used it.
You can also add some salt and pepper to this dish if you like.
I used Kerrygold butter but regular butter will work well too. I just love my Kerrygold.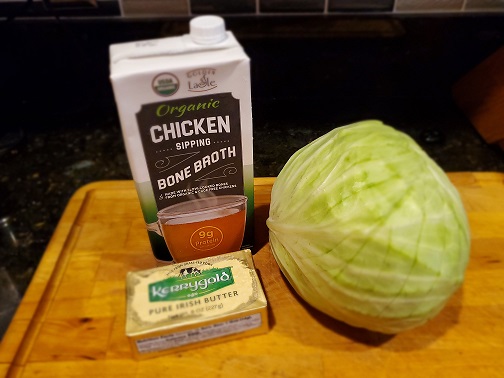 Cooking Cabbage in the Instant Pot
Ingredients
1 cup chicken or vegetable broth or water
4 tablespoons butter
1/2 head of cabbage, roughly chopped
Directions
Put broth and butter in the bottom of the Instant Pot.
Place cabbage into the pot.
Put the lid on the pot.
Pressure cook for 6 minutes. You can let the pressure release naturally for a few minutes and then manually release the pressure.
Notes
You can add carrots or potatoes to this. If you add potatoes, increase the cooking time to 9 minutes. The size of the potato will affect the cooking time.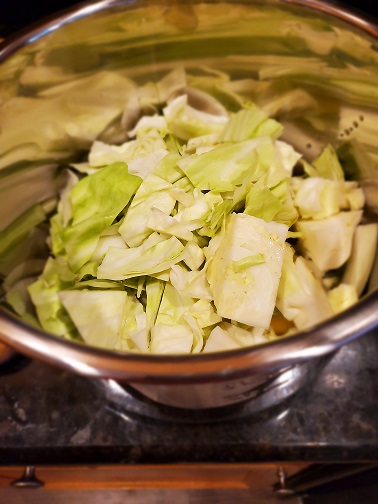 I think you'll enjoy this recipe. If you try it, let me know what you think. You can email me at jill@becomingelli.com or just leave a message below or on our Facebook page.