A review of Mary's Gone Crackers? Have I gone crackers? A good question, I suppose, but I love these crackers. They're crispy and they taste great alone or with a topping. I like to smear goat cheese on them for an easy snack or as a side dish with a bowl of soup.
I frequently pack them in my lunch. They're great with my usual salad. A co-worker asked about them and I gave her one to sample and now she's a convert too. We sit together in the lunch room and munch on our crackers.
Mary's Gone Crackers
These crackers are gluten free, nut free, egg free, and dairy free. They are a great vegan snack.
I like these crackers despite being free of everything. Rather, I like them and being gluten free, etc. is a bonus, I guess.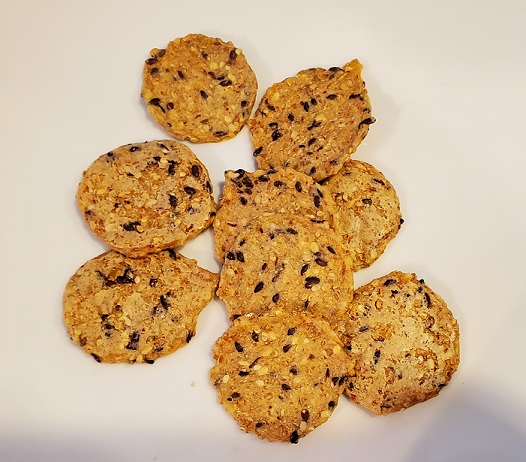 Mary's Gone Crackers are vegan, kosher, and non-GMO.
The ingredients for the original cracker are:
Organic whole grain brown rice, organic whole grain quinoa, organic brown flax seeds, organic brown sesame seeds, filtered water, sea salt, organic wheat-free tamari (water, organic whole soybeans, salt, organic vinegar).
NUTRITION
A serving is about 13 crackers and has 140 calories.
Serving Size: 13 Crackers (30g)

Calories from Fat

45 calories

Protein

3g
So, probably a bit high in carbohydrates if you're following a low carb diet but otherwise, it looks fine to  me.
Variety
There are now a good variety of these crackers, including herb, black pepper, and a line of Super Seed crackers. My favorite remains the original crackers.
Be sure to check out the Mary's Gone Crackers website. They apparently have coupons sometimes and you can make a purchase online. You can also search for stores in your area.
Just a note on that. I buy a large box of these crackers at Costco, which did not show up on the area map. The regular grocery stores showed up but  not Costco. If you're a fellow Costco shopper, buy these crackers there. It's the best deal, I believe.
The website also includes some tempting recipes.
So, if you're looking for a good snack cracker, check out Mary's Gone Crackers. You will enjoy them!