It's fall once again and my heart turns to soups, including my recipe for a Cabbage, Potato, and Sausage Soup and I'm using the Instant Pot for this.
If you don't have an Instant Pot, you can make this just as easily on the stove. I wanted to see how the cabbage and potato would work in the Instant Pot and it turned out great.
In all of the recipes in Becoming Elli, you can count on there being a lot of recipes that include cabbage. I'm not sure why that is. I posted my basic cabbage soup recipe a while ago.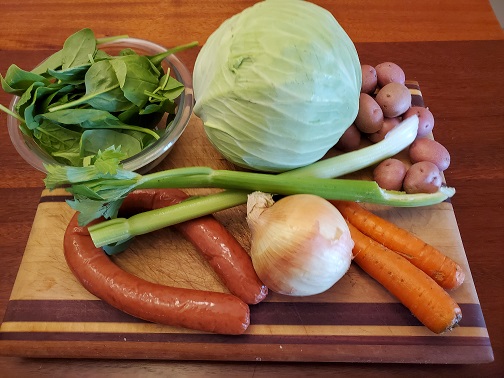 Ingredients
1/2 Tbsp. avocado oil
2 carrots, chopped
2 stalks of celery, chopped
About 1 lb of baby red potatoes, cut in half or quarters depending on the size
1/2 of large onion, diced
1 or 2 cloves of minced garlic
About 1/2 head of cabbage, chopped into small pieces
1 package of turkey kielbasa (13 Oz), sliced
2 cups of baby spinach
4 cups of chicken broth
2 cups of water
Salt and pepper to taste
1/4 teaspoon crushed red pepper, optional
Instructions
Turn the Instant Pot on to Sauté. Add the oil and let it heat.
Add the carrots, celery, and onion to the pot and stir frequently for about 5 or 6 minutes.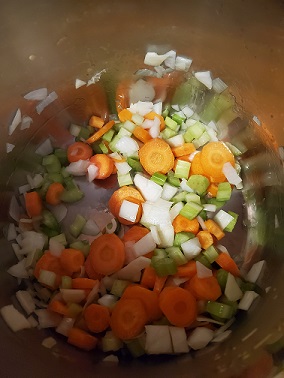 Stir in the sliced kielbasa and sauté for a few more minutes.
Add the minced garlic and sauté for a minute or two longer.
Turn sauté off.
Add broth, cabbage, and potatoes to the Instant Pot.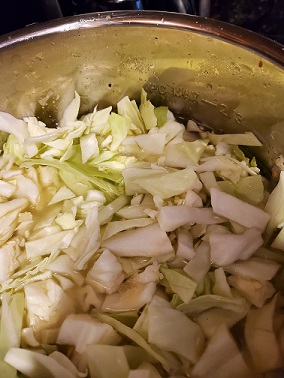 Stir in salt, pepper, and crushed red pepper.
Set your Instant Pot to Soup, make sure the steam vent is set to pressurized and cook for about 30 minutes.
I usually let the steam release naturally but that's not necessary if you're in a hurry. When you're ready, remove the lid.
Add the spinach and stir until it's wilted.
Notes:
I used turkey kielbasa because that's what I had on hand. I think chicken sausage would be great in this, as would traditional pork kielbasa. Really, any sausage will do. Use a vegan sausage if you are avoiding meat. I think you'll want something in the sausage family for this soup. Otherwise, it's just not cabbage, potato, and sausage soup.
You can add other vegetables to this. I think green beans would be a good addition.
I added the spinach at the end because it adds a lovely bright green color to the soup but you wouldn't need to. If you want to add kale or a different green, remember that most cook longer than spinach so you would probably want to add the greens into the pot to cook with the other vegetables.
I used baby red potatoes but you can use any potato you want. Also, I always leave the skin on when I add potatoes to soup but that's optional. I think even sweet potatoes would be good though it would change the flavor a bit.