A young friend and I were talking recently and she said "I spent 20 minutes today trying to figure out what to wear to yoga. You should write about workout clothes in Becoming Elli." I said, "great idea!"
Thinking about this made me remember the horrible gym uniforms we used to wear at school. They were one piece outfits with bloomers and they snapped down the front. Why did we wear those things? Anyone else remember them? Anyway, those days are long gone and now we wear whatever we want to work out in.
Workout Clothes
So here's my quick list of what to wear for a few sports.
Yoga
I remember my very first yoga class. I had no idea what to expect. I went to the local drug store and bought new socks because I had this vague idea that I would need them. I got there and discovered that you typically do yoga in bare feet.
Here's what I think is best for a yoga class. I like pants that come up high enough to my waist that I don't have to worry about my clothing when doing something like a down dog. If you go with bell bottom pants, be award that the extra material may get in your way when you do some balance poses.
Also, shirts should be tight enough that they're not billowing around your face when you're doing a forward fold. I like my shirt to be fairly tailored for yoga class.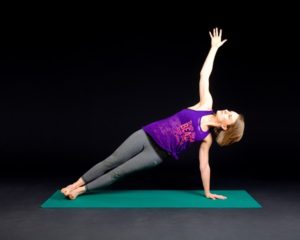 Running
Ah, running seems to entail a lot of wardrobe choices. You really shouldn't need a lot for running but I'm always dealing with my clothes. Here's what I deem important for running attire:
Running pants. If these are too short, you may experience chafing of your thighs. It hurts, believe me. I like capri length pants but of course that's a personal choice. If you find running pants with pockets, BUY THEM! I love pockets and most running pants don't include them.
I prefer a looser shirt for running but stay away from a regular old T-shirt and instead wear a "tech" shirt that is made from material that wicks the sweat.
Get a good sports bra. If it's too small, you may have chafing. (Yes, chafing is a theme in running clothes.) You want adequate support and coverage and make sure it doesn't rub under your arms. Because you know what will happen…chafing!!
I like a hat when I run. It keeps the sun out of my eyes and protects my head. If it's hot, I might just wear a headband to help absorb the sweat.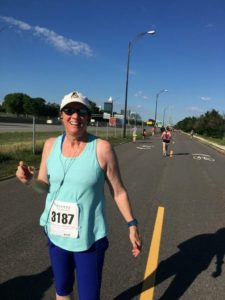 Shoes…running shoes could have its own blog post and may at some point. This is where your money should go. Go to a running store and get yourself sized and analyzed. They should be able to analyze how your foot strikes the group and recommend the best style of shoe for you.
I bought compression sleeves for my calves and they helped tremendously. I was surprised at how much they helped. If you're having problems with tight calves, invest in these.
Biking
Like any sport, you can spend a lot of money buying the fancy outfits and accessories when you take up biking. Here's what I would say are the basics:
A shirt that wicks the sweat. You want this shirt to be tight enough that it's not billowing about you as you pedal but you also want it loose enough that you're comfortable.
If you can, get some bicycling pants. These are pants that have padding in the rear. I have a fancy brand of bicycling underwear. They have the padding but I have to put something over them. They're not made to worn alone. I also have a pair of biking shorts that just have the padding and can be worn as is.  Whether or not you get official bicycling shorts with the padding, whatever you wear should be tight on your legs. You don't want loose leggings getting caught in the bike chain.
Don't forget your helmet!! That's important. Get a decent helmet and wear it.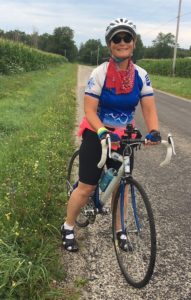 If you're going to be doing a lot of bicycling, it's probably worth investing in bike shoes. Make sure that the shoes you buy work with the clips on your pedal. Or make sure that the pedals you buy match the shoes that you have. However you do it, there are different configurations for pedals and shoes and you want to make sure they match.
Until you decide you want to make that investment, a comfy pair of running shoes will probably suffice.
Swimming
Really, what can you possibly need for swimming except for a bathing suit? If you're going to take up swimming, invest in a swim cap to cover your hair. Also you will need goggles. It took me a while to realize this but swimming is much easier when you wear goggles. That's pretty much what you need: suit, cap, and goggles.
If you're buying a swim cap, consider spending a bit more and upgrading to silicon. They cost a bit more than the silicon ones but last longer. On the other hand, if you don't know how much swimming you'll be doing, buying the cheaper one to start with is fine.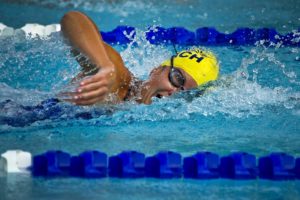 If you want to buy more, consider buying water shoes. If you're going to walk in the pool, you'll definitely want some water shoes. Also, if you're going to do open water swimming, you probably want something on your feet.
I've seen aquatic earphones that allow you to listen to music (or podcasts!) while you swim. I've not invested in these so I can't tell you anything about them.
Lifting
When you're lifting weights or working out at the gym, you don't need a lot. A pair of comfy shorts or leggings and a t shirt is fine. Again, don't wear the baggiest T-shirt you own because you don't want to have to worry about it riding up when you bend over. I don't seem to need the fancy tech shirts for this so much and it's my chance to wear some of the t shirts I've gotten from various races.
People say that you should wear flatter shoes when you lift. I just wear an older pair of running shoes, the ones that don't quite have enough support for actually running in and haven't had any problems with this.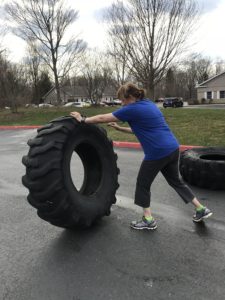 You often see people in the gym wearing gloves for weight lifting. I've not gotten to that and I like having calluses that I get from lifting the bar.
That's about it for lifting. I haven't figured out a way to spend money on this workout, other than my gym membership.
Here's a helpful hint for all of these clothing items. You can often find great deals on sports apparel at consignment shops or thrift stores. I found some great bicycling shorts at the local thrift store.