Last Sunday I ran the Raccoon Run and had a blast. It was an chilly – but sunny – morning at just over 33 degrees.
It's always hard to know how to dress when the weather is cold but the sun is out. I figured lots of layers would be good.
I ended up with four layers on top:
compression shirt that wicks on the inner layer
loose fitting sports cover up
the tech shirt Raccoon Run 2018 from the event
my hoodie sweatshirt (and I wore the hoodie up at the early miles to stop the wind!)
Standing around before the race, I joked with my friend that at mile 2.25 we run past my car, so I might just swing by and grab that other sweatshirt I brought to add on top. Since It doesn't feel good to dress like a snowman when you can't move, I opted to be a little cold instead.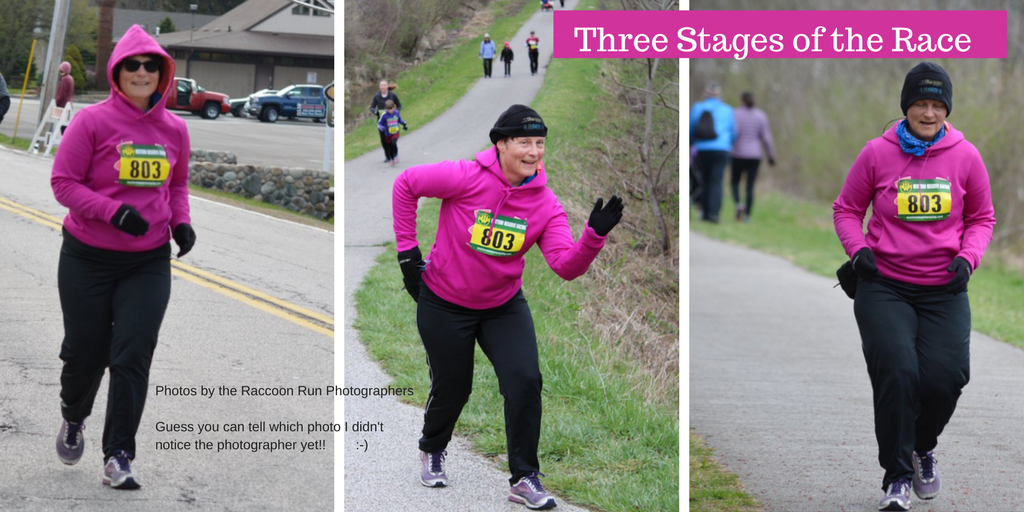 Most people had jackets and sweatshirts on because it was definitely on the chilly side.
This is the third or fourth year I've run this race and I always enjoy it and have fun. It supports the elementary school so there are lots of children and teachers running. One of the cutest fundraising projects makes me smile – little raccoon tails to attach while running.
Between the entry fees, sponsors, and donut sales, the race brought in $40,000 for Fishcreek Elementary in Stow.
Since I'm training for the Cleveland half marathon race in May, I used this race as part of my long training run, by jogging 3 miles before and 4 miles after.
Nonetheless, my 13:51 minute per mile average was enough to have me win for my age group with 7 other women in the 60-64 category.
My friend Susan Grant also runs this each year and also won for her category. It really adds to the fun when you have a race buddy! She runs a much faster pace than I do and was there at the finish, cheering me over the line.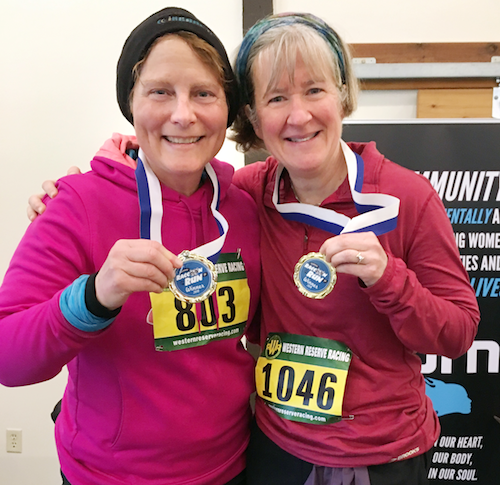 It's a well organized race, with a mile fun run for the kids about a half hour before the 5K. DJ music, climbing wall, basketball hoops, mini bungy jumping and local sponsors were also set up at the start/finish area to give it a festive atmosphere. There were about 300 people total in the race of all ages and abilities. I think because it is a fundraiser supporting the schools, many Moms and Dads with strollers were running with their elementary-age children on the course.
It's very inspiring to see so many age groups.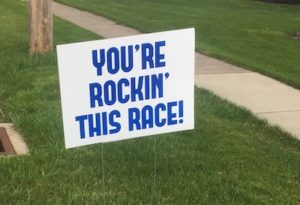 The cold weather definitely made it easier to run a long distance. Having gloves and a hat were a must for me to be comfortable with the temperatures in the 30's. I kept thinking of the women who ran in the Boston Marathon a few weeks ago when it was raining in the 30's. It made this chilly race seem much more manageable!
I'll be back again next year for more fun at the Raccoon Run for sure. If you live in Northeast Ohio, please consider joining me at the run.
Mark your calendar now for April 28, 2019!