Episode #24 of Fit Strong Women Over 50 Podcast for the Becoming Elli Community
Download | Play in New Window
Please Subscribe: Apple Podcasts  (iTunes) | Google Podcasts | Android-Google Play | Stitcher | Player FM | Castbox | Tunein | Spotify | RSS
In podcast episode #24, Jill and Chris reflect on 2018. They talk with amazing women from episode 7 Diane Berkley and episode 8 Juel Fitzgerald to find out how their 2018 went  and to talk about plans and goals for 2019.
Diane Berkley talked about:
Thyroid issues and how that affected her workout
How she got her running speed back
Participating in the Ultimate Fitness Challenge at her gym with thrusters, the assault bike and push-ups
How her trainer Mike helps her measure her fitness levels
Which measurements she tracks
Different types of dead lifts
What cardio she is does at the gym along with her two days a week strength training
How she maintains her eating plan
Possible new challenges for 2019: swimming and her first time race
We talked with Juel Fitzgerald about her reflections on 2018 and plans for 2019:
How she encouraged 7 other women to accompany her to Las Vegas to walk the Rock N Roll half marathon
How she plans to do the St Jude Seattle Rock n Roll half marathon to add bling to her Rock n Roll Race Series collection.
Her work with GirlTrek and the difference it is making in women's health
Differences between the Garmin and the FitBit
Seeing Chris and Jill on Abbey Road during the Cleveland Marathon. Did Juel do the half, the 8K, or the 10K this year?  She couldn't remember, but she did the HALF and the 8K in 2018.
Her challenge in 2019: She wants to find women who want to train and walk a 26.2 mile marathon. She will help coach them through it with her! Are you up for it?
Links mentioned during Diane's and Juel's interview:
Jill and Chris reviewed their 2018 year. We are particularly proud of our completing 24 podcasts and the ongoing growth of the Becoming Elli community. Thank you to everyone who listens to our podcast, reads our articles, belongs to our facebook group and supports our community!
We also talked about our races, the ultimate fitness challenge, and the MS150 Buckey Breakaway bike ride. We discussed Jill winning the age group award for the Firecracker5K race. She had completely forgot and still wasn't sure until Chris texted her this photo as a reminder.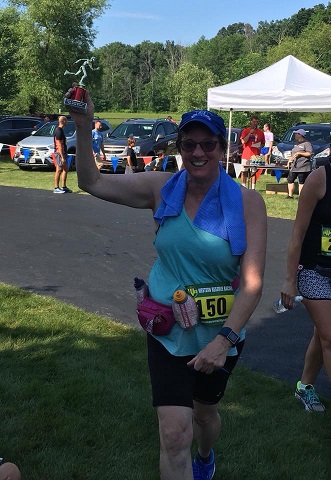 (Side note from Chris: With Juel forgetting if she did the Half or the 8K at the Cleveland marathon (she did both) and Jill forgetting that she won her age category for the Firecracker Run, I think it is safe to say that most of the races we are doing are not about winning, losing, placing! it really doesn't matter! What matters is getting out there, being with like minded women and simply just participating – that's the key to having fun at a race! Merry Christmas and Happy Holidays!)