Podcast: Play in new window | Direct Download
Subscribe: Apple (iTunes) Podcasts | Android-Google Play | Stitcher | Tunein | Spotify | RSS
Becoming Elli Podcast #7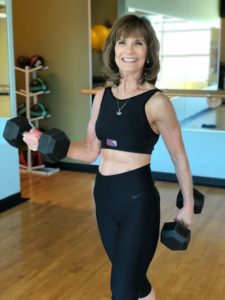 Diane is an everyday woman who works a lot of hours at her job, has children and grandchildren, and is active in her church. She finds time to work out in some way six days a week and looks and feels fantastic.
A few years ago Diane Berkley decided to see how strong and fit she could become.
In episode number 7 of the Becoming Elli Podcast, Jill and Chris interview her and  she shares her workout secrets with our listeners. In this episode, you will learn:
How she works out
What she did to gain muscle
How she has added running into her routine
How she eats to stay lean and strong
How often she eats
"I see women working out in the gym, struggling to change but things stay the same. So I asked my trainer… What makes the difference?"
Bonus – Stay tuned at the end of the podcast tips for how to get a bit more active!
Please leave a comment below and let us know what you found helpful or interesting about this podcast. Thanks for listening!