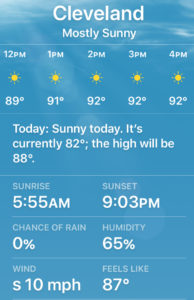 The weather forecast was supposed to be the low 90's today and my bike group has a long bike ride planned in Cleveland, starting before noon and probably not finishing until well after 4 pm.
Of course, we won't be riding the entire time. We'll be taking photos (there are 3 Cleveland signs on the route) and probably stopping at a marina on Lake Erie for lunch.
Being able to participate in a long day during the heat, without any ill effects, can be a challenge.
Heat gets to me, so I try to do several things to stay cool during summer heat. You probably are doing most of them already. (Some aren't so pretty.)
Here are my heat tips for bike riding or running a race when it is HOT:
Bring two water bottles and skip drinking the beer. Nothing dehydrates you quicker than alcohol. Refill the water bottles at lunch and ask for ice from the waitress. (Tip well.)
Hydrate well 2 nights prior to the ride or race. Salt my food. Make sure I have magnesium and potassium in food/supplements ahead of time and after.
I use a cooling scarf with gel beads inside. I take it off and dunk it in a cup of water at each aid station during the MS150 ride. It swells when it gets wet, then I tie it around my neck. I move it around so the wet part is around my skin. It's usually dry by the next aid station.
Wear tech clothing that wicks. Today, I'll have a bike jersey that is great for not sticking to me. A cotton shirt seems to just stick and will chafe. I also use chafing cream.
I also am not shy about dumping water over my head when it is super hot. (Remove helmet and sunglasses first for best results!)
A baseball cap helps to keep the sun off the top of my head and face. Sometimes getting that wet helps, but I prefer water directly on my hair if needed. My hair isn't long enough for a ponytail, which would probably be a better look. A baseball cap helps!
Sun screen on my arms – but very little on my face. Sun burn makes the heat worse. Sunscreen on my face seems to block my pores and I can't sweat correctly. (Anybody have any suggestions?) I know I probably should protect my face more, but I have overheated from using sun screen on my face. I recently read that you shouldn't use sunscreen over 50, but the article didn't explain why. Does anyone have an idea about that?
I have an insulated Nathan water bottle that I freeze the night before so as it melts, I am sipping ice water. I'm going to put it on my belt where I store my epipen.
I usually drink electrolytes during a race, usually as Gatorade. Some people use Tailwind, but I haven't tried it yet. Others use Powerade, depending on what the race or aid stations have. I'm not sure how I'm going to deal with this today. I haven't bought any salt tablets, but I know that some people do.
Pickle juice helps with the salt when I'm bike riding and they often have it at the aid stations but, I've never seen it at a run however. Maybe I will see if I can get a pickle or two with my sandwich at lunch.
Aim for the shade when and if possible. Today's ride will be mostly in the sun.
Slow down as necessary. (I'm already pretty slow.)
Getting electrolytes back in me and cool down inside the core with something like ice really helps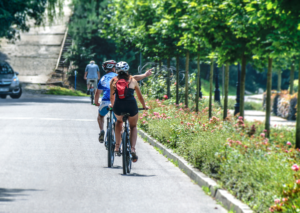 Have you ever had heat problems? Sometimes it's called heat exhaustion or heat stroke. It starts out just being hot, but progresses to when your face is incredibly red and you are way overheated. I've had it and don't want to repeat it. In fact, I have gotten it when it has progressed to the chills. Definitely time to "call it." Sure sign of a heat problem. No amount of pickle juice helped at that point!
It was on a bike ride in pure sun when it was just too hot (around 88 degrees and 3pm!) Most of the bike ride was behind me. Luckily there was already something in place during that ride called a SAG (support and gear) which is a van that has a bike rack ready to give any bike rider needing assistance a ride with their bike to the next aid station. Although I missed the last 15 miles or so of a 65 mile ride, it was much better to do that than have a REAL problem.
If you are having a problem with the heat, I believe it is NOT a time to try to try to suck it up, try feel better and keep riding! If you have heat problems, don't try to tough it out! If you're really faced with a heat problem, your brain stops working correctly and you can't make decisions well. Ride with people you trust and trust your friends when they say you need to take care!
PS. I just checked the forecast and it has changed from earlier in the week for the better. Looks like we have beautiful high 80's for the riding today in Cleveland Ohio – MUCH BETTER riding weather! May try to swing by the Cleveland Jazz Festival and listen to some great music too! It's free down near Playhouse Square today!!
Tell me, how do you handle exercise during summer heat and still have fun with outdoor activities?!