Long story short…I love my Nathan insulated handheld water bottle.
**Disclosure: I am testing my participation in an Amazon affiliate program. Some of the links on this page are part of their affiliate program, where a portion of a purchase might help offset the expenses associated with the podcast and website.

As spring has arrived, my mind is already into summer and enjoying hot weather! One of the challenges I have is keeping cool enough during hot runs. That's why I bought the 18 oz Nathan SpeedDraw Plus insulated running water bottle right before the Akron Marathon last September.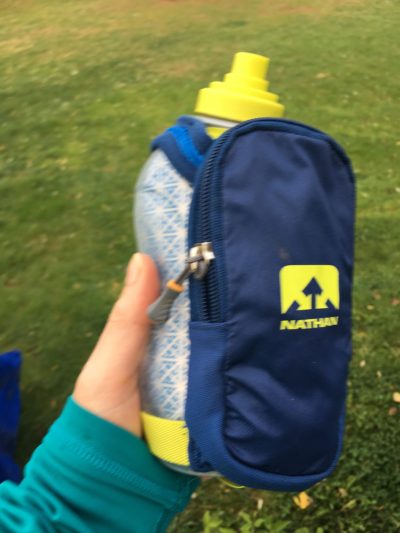 During training, I had struggled trying to find something to run with or hiding water bottles on the trail. This water bottle had four features that sold me:
Insulated means you can fill it and freeze it overnight so you have cold water during the hot day of the race,
Internal flap holds water in until you squeeze it or suck on it. No cap to worry about.
Pouch for keys, phone or snacks.
Adjustable strap to fit around your hand for easy carrying without clenching.
This Nathan SpeedDraw Plus Insulated Flask is an 18 ounce water bottle that is great for providing liquid when you need some while running on a super hot day.
I bought it at the Akron Marathon Expo the day before I ran the half marathon. Temperatures were predicted to hit into the 80's and the day didn't disappoint. There were lots of heat warnings. So I broke the rule of "NOTHING new on race day." And I'm so glad I did!
You can fill it with water the night before and put it in the freezer, because it is insulated. Hint – don't overfill it. (Like I did!) You need to leave room for it to expand when it freezes. In the morning, you are basically running with an insulated ice cube for the first few miles. Not a problem, because it is insulated, your hand doesn't get cold. It was so much easier to run with than my regular water bottle and easy enough to switch hands when needed.
When I left the house at the wee hours of the morning, it was frozen solid, but as the race progressed, the block of ice melted and it was awesome to be able to sip ice water! The ice had started to melt and water was drinkable from mile 5 on. I still drank water and Gatorade (or power aid) at each water station, but the ice water gave me a nice extra cool down. I even squeezed a little bit on my head under the hat.
This water bottle would have been perfect for the June 17th 5K that Jill and I ran in 90+ heat up in Cleveland last summer!
Key features of the Nathan SpeedDraw Plus insulated handheld water bottle:
Size – I  have large to medium woman's hands… not small, so I felt that the bottle curves fit my hand pretty well. I think the designers made it more for a man's hand than a woman's hand but with the adjustable strap on the outside, I could snug it up. Because of the case, I never felt like I was clutching the bottle and my hand didn't clench.
Pouch – My iPhone 6S is very tight in the pouch. I didn't want to put the phone in the pouch just in case the lid to water bottle leaked possibly getting the phone wet. It didn't leak, but I didn't want to chance it. I tend to fill up the space available with stuff, but I felt that the zipped size of the pouch is just right. Any bigger and I'd be stuffing too much into it. Since I always run with my EpiPen, I put my phone in my waist pack. This saved the space in my Nathan pouch for the Clif BLOKS energy chews.
Price: The water bottle was listed at $35, but I save a few bucks by getting it at on sale at the Expo. I'm glad I got the insulated, even though it jacks up the price about $10. Amazon has it in many colors – with the Nathan SpeedDraw Plus in my color at $31.99.
I guess the straps are reflective for running at night, but that's not something I do, so the feature isn't necessary for me. (Maybe someday, right?) They also make a different version of the Nathan handheld flask that has a place for your phone as well that could be very handy. I have never tried that one. My phone fits inside the little pouch because it is small enough, but I have to unzip the pocket to see the phone, which is a pain.
Do you have a water bottle that you love? Which one and what do you love about it? Leave a message below or send me an email!