I love salmon patties. They're quick and easy and taste great. I was trying to figure out how to get more sardines into my diet. I had a number of cans of sardines in my pantry so it made sense to use them but also sardines are supposed to be good for you. Sure, salmon is too but I find it harder to work sardines into my eating patterns. I've written about this before so I guess it's an ongoing challenge for me. This time I wanted something warm for dinner, not a sardine salad so I came up with the idea of salmon and sardine patties.
Because we're doing the 2021 Veggie Challenge, I wanted to be sure to add some vegetables to this. Normally I would have used only onion but this time I used diced onion, celery and red peppers. I also added ground flax seeds because flax seeds are rich in fiber, nutrients, and omega 3 fats. I often look for ways to get flax seeds into my diet.
Salmon and sardine patties
Ingredients
1 can salmon (6 oz.)
1 can sardines
2 eggs, whisked
1/4 cup diced onion
1/4 cup celery
1/4 cup red pepper (You can add more vegetables or remove some of these.)
1 tablespoon Dijon Mustard
1 tsp Garlic powder
1 tablespoon ground flax seed
Salt
Pepper
Avocado oil or olive oil or oil of your choice
Spinach
Lemon slices
Directions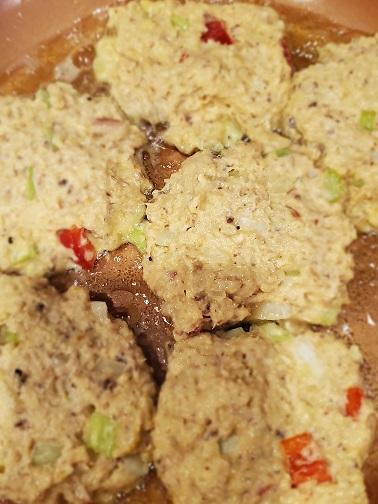 Prepare patties:
Drain both cans of fish and fork into a small mixing bowl.
Add eggs and mix.
Blend in the diced vegetables, mustard, garlic powder, flax seed, salt and pepper.
Mix well and then form patties.
Refrigerate patties for half an hour or longer.
When ready to cook the patties, heat oil in cast iron skillet or non-stick skillet.
Add the patties to the pan.
Cook patties for several minutes until browned and then flip and brown on the other side.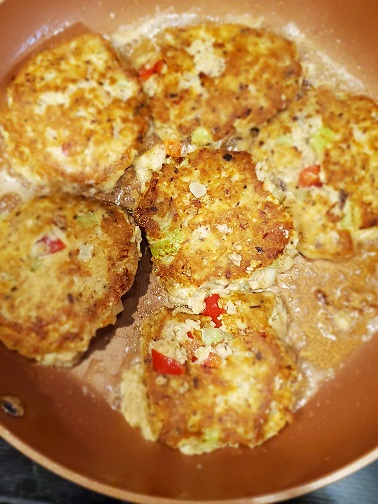 Serve on bed of spinach or other greens with slices of lemon.
A side salad or other vegetable completes the meal.
I think you'll find this to be a delicious, easy dinner to make. It's versatile and tastes good. You can add or delete as many vegetables as you want.