Once a year I play softball, hop around inside a burlap sack, try to run/walk with a partner with one of our legs in a sack, play crochet, and race to the other side while balancing an egg on a spoon.
You got it! This Saturday is a family reunion.
All different ages and generations gather together. It's a blessing to have such a big family.
It'll be a time to catch up and reconnect. We will play corn hole. bocce ball, badminton and horseshoes.
I'm glad that my fitness level is strong enough to participate in the games without worrying about killing myself.
I didn't used to be like that. In fact the other day, I ran across a photo of myself taken years ago at one of the family reunions, before I started really focusing on getting fit and strong. Notice the diet coke can in one hand, camera in the other. It took a long time to quit my diet coke habit and now it really gives me a stomach ache if I drink even a small amount.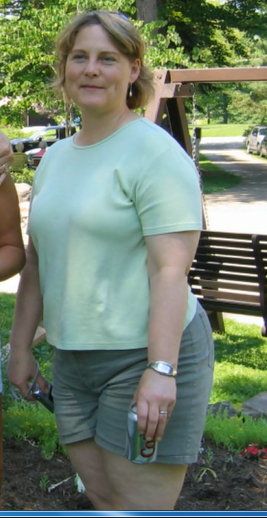 Because I felt too out of shape to join in the games, I spent a lot of time going back up to the food table and yes, I felt like I'd gain about 3 pounds in one day.
Of course the family reunion always involves a whole lot of food and usually a huge landscape of high calorie choices.
Pasta with meatballs, pizza, fried chicken, and all kinds of desserts – cake, cookies, brownies, jello-pretzel-cool-whip and fluffy stuff that I don't know what's in it except sugar and sweetness. Nary a veggie tray with carrots, celery, broccoli and cauliflower to be found, but that is because everyone brings their most delicious dishes.
Believe me, it's tempting to overeat. Today I'm going to try to remember all the good strategies for dealing with the food that we've discussed in the podcasts.
I'll spend my time playing games and talking with people I haven't seen since last reunion.
When it is time to eat, I'll try to remember the tricks Melanie and Nancy shared with us for not over eating.
Survey the table completely before putting anything on a plate.
Include fresh veggies, whole food choices when possible.
If I really want something that has lots of calories, I'll take a tiny size portion.
Meanwhile I'll be drinking lots of water, so I don't eat when I'm really thirsty. It's been so very hot lately, I've been drinking more water than usual, so that's a good tip anyway! Gotta make sure I have salt in my diet too.
Chicken Quinoa Tomato Salad
Today, I'm making a new healthy salad recipe and I thought I write it up to share it on Becoming Elli while I'm making it this morning.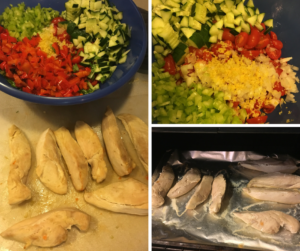 First, I prep the salad ingredients for my Chicken Quinoa Tomato salad.
Baste 4 chicken breasts in salt water for one hour. Rinse off and put on a cookie sheet to bake for 40 minutes. (I put the oven on 400, but I suspect my temperature gauge is slightly off.) The salt water locks in the moisture in the chicken so it doesn't dry out.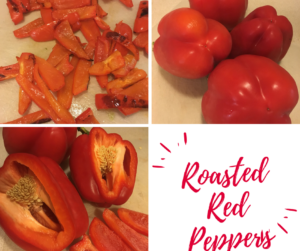 Slice several red peppers into strips.(Four nubs on the bottom are females, three are male. The female peppers are supposedly sweeter with less seeds.) Coat with olive oil. Roast in oven for 30 minutes.
Cook 2 cups of quinoa in 4 cups of water for 15 minutes. Take off heat. Fluff with fork. Put lid on for 12 minutes. Fluff with fork.
While the chicken and peppers are roasting and the quinoa is cooking, chop up all the veggies:
Cut 2 pints of grape tomatoes in half.
Dice half of a small Vadelia onion.
Cut a cucumber into strips and dice.
Cut 3 stalks of celery into strips and dice.
Dice up a small handful of fresh basil
Combine ingredients in a large bowl.
Zest 2 lemons. Squeeze juice over veggies.
After chicken and red peppers have cooled a bit and cut into cubes.
Allow quinoa to cool. Fold everything together in the big bowl. Salt and pepper to taste.
Transfer to a smaller serving bowl if desired.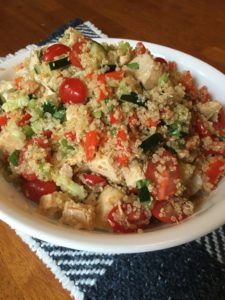 I am a slow cook, so it took me a while to get this all done.
But now that the salad is ready, I'm really looking forward to seeing everyone at the reunion and having some fun!