Ready for a race recap of the Good Hops 5K Beer Run 2018? It was a fun but very hot race held on the Saturday of Father's Day weekend.
I went on vacation last week. I spent several days at Kure Beach in North Carolina with my son and his girlfriend. It was great: lots of sun, swimming, eating, and drinking beer at breweries. Kure Beach is on the North Carolina coast, about 15 miles south of Wilmington and next to Carolina Beach. It's a great little beach town with a nice beach and restaurants and shops nearby.
We went to Good Hops Brewery in Carolina Beach to sample the local beer and while we were there, we saw a sign for a 5K to be run in a couple days. The sign said the race was both dog and stroller friendly. Somehow, we discussed the idea of my doing the race and maybe taking  Stella, my son's girlfriend's dog, who had come to the beach with us.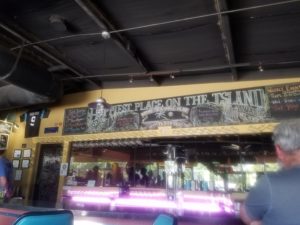 I signed up for the Good Hops 5K Beer Run while sitting there in the brewery.
The next day I took Stella out for a trial run. I decided that she could become a great running dog but needs to be trained to run with someone. So, I decided not to take her on the race. As it turned out, I'm very glad she didn't go.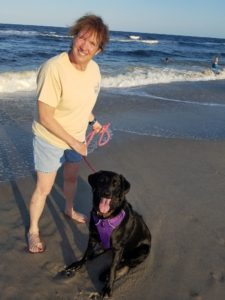 The race had awards for the fastest dog. The dog who won, a lovely German Shepard, was so hot by the end of the race that they took him to the vet's office immediately afterwards. The dog was ok, just hot and tired, but I wouldn't have wanted to be responsible for overheating Stella.
Race Recap of the Good Hops 5K Beer Run 2018
The race was a trail race through the Carolina Beach State Park. It was  a trail run with much of the trail being sand or packed sand. The trail wasn't too tough, but it was narrow in places and did have roots and rocks on it. I saw at least one woman fall on the trail. She tripped over a root and went down hard. Several of us stopped to help her up and make sure she was ok. She brushed herself off, said she was fine, and continued the race.
There were 200 participants in the race with a great mix of people. There were a few dogs and some strollers. We met at the brewery and when it was time to start the race, we crossed the road to the state park and lined up there. The race was conducted completely in the park and when we crossed the finish line, we then crossed the road back to the brewery.
The race organizers kept asking for the faster runners to move towards the front. I thought I was far enough back, but I didn't realize how the race would start. When we crossed the start line, the trail was narrow and had brush along side, so it wasn't easy to pass people. I felt like I was being swept along and ended up running much too quickly for the first part of the race. I could see on my Fitbit that I was running way faster than I normally run and tried to slow down but it took a while for me to drop back to my normal speed. When the trail opened up a bit, it was easier for some to pass and the rest of us to drop back.
The trail was pretty though I was sort of hoping to see some water along the course. I was from out of town, of course, so really had no idea what to expect. No water, just trees and the sandy path.
It was hot. Really hot, in the high 80s.  I didn't have a cooling towel with me and I wore my compression calf sleeves, making me way overdressed. I carried water with me and I added some electrolyte water to it but still ended up being too hot.
By the time I finished the race, I was in bad shape, overheated, and miserable. It took a long time for me to cool down and get back to a normal temperature. I know that I got overheated last year at the Akron Marathon when I ran the half marathon but this seemed worse. I actually scared myself because I was so hot.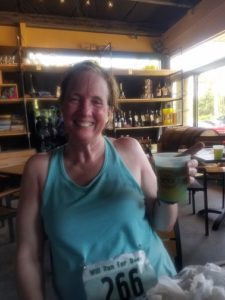 I'm holding the free beer in this photo but I didn't drink it. I gave it to my son and stuck to water and my electrolytes.
Awards
The award categories were:
1st Place Male/Female
1st Place Masters Male/Female over 50
1st Place Father/Kid Combo – (This was Father's Day weekend, of course.)
1st Place Stroller
1st Place Dog
1st Place Costume
I only saw a couple strollers and only one or two dogs. I gather one person ran in a costume but I didn't see him.  Needless to say, I didn't win anything.
My results were good. I completed the 5K in 36 minutes and 32 seconds, smack in the middle of the pack as the 101st person to cross the finish line out of 200 participants. Given how I've been running this year, that's a good number for me. I just wish I had done it at a more consistent pace and didn't get so hot.
I was so glad that I didn't bring Stella. She's a big black dog and it would have been horrible for her to run in the heat.
We got a nice T-shirt. Adult runners go a free beer and a plastic beer glass with a race logo on it. After the race there was a party going on. There were food vendors and music playing. It was an enjoyable time.
It was fun to be able to decide to run a race without a lot of thought, but I got so hot that I was a bit sorry that I ran it. I really needed to be better prepared for running in the heat.