Last Sunday I learned a few things about myself when I did the 2018 Twinsburg Duathlon. My race recap of this "Run-Bike-Run" event will give you my thoughts as a first time participant.
For all the Becoming Elli women over 50, who want to try something challenging, but have hesitated – I say "Do it!" Maybe you haven't done it because you are worried about what someone else might say or feel like you might be embarrassed or aren't sure how it will go. I'm reminded of this quote: "Do one thing everyday that scares you." – Eleanor Roosevelt
I learned that the feeling of accomplishment is even more sweet when you have these feelings to begin with.
Believe me, I had a lot of feelings and thoughts going into this:
Anxious – some "not-so-encouraging" thoughts were popping into my head
Eager – for the biking section, because I felt confident in my abilities on a bike
Apprehensive – those butterflies in the belly feeling
Curious – how does it all work? How should I prepare?
Will my bike look extremely old and out of place?? (Never mind about me!!)
Will I get mixed up in the transition? How does that even work?
Will it be too hard for me and I'll have the walk the whole 3rd leg?
Will I get lost? (since I know I was going to be one of the slowest, usually I can't see the person in front of me when there are only a few 100 people in a race.)
If you've ever challenged yourself past your comfort zone, I'm sure you've felt a lot of these feelings. I had been aware of the Twinsburg Duathlon for many years. This year, I won a complimentary entry into the race at the Team ER annual banquet. My company sponsors the team's website and this year I competed as a member of the team.
The Twinsburg Duathlon is put on by Northcoast Multisports in the city and township of Twinsburg, Ohio. You may have heard of Twinsburg because that is where the annual Twins Day festival is held, when thousands of twins and other multiples come to celebrate.
The duathlon means that there are two sports. In this race, there are actually three legs to this race: two miles to run, ten miles to bike and then another two miles to run on that same course again.
My overall reaction:
Two thumbs up! A very fun experience! Although I thought it was easier physically than the half marathon, in several ways this race was more challenging mentally. There were lots of moving parts.
It was a very well organized race with great communication, a well-planned course and clever awards for first, second, and third in age groups, first timers, teams, and overall male and female winners. There were about 100 participants with 13 relay teams where one member would run the race and then tag the other member who did the biking. The race director announced that there was even one team of 80-year-olds in the race! I wanted to talk with them. Honestly, they must have looked very young and I couldn't tell who they were. The ages of the teams weren't listed in the race results.
Individual participants ranged from 14 to 70. It did feel like a variety of ages, but one of the first things that struck me was how fit everyone looked.
The weather was sunny but 65 degrees. Low humidity. PERFECT!
There were some of the athletes who looked extremely focused and had obviously competed in things like this before. There were plenty of others who, like me, were "newbies" and asked lots of questions.
One of the trickiest parts of this race is switching sports – your final time includes your transition times. I put my helmet, gloves and bike shoes on a little towel next to my bike. Many of the experienced riders put their helmet on their handlebars and didn't waste time wearing gloves. I tried to follow the guidelines of "Run your own race." "Nothing new on race day." and "Stay in your comfort zone – aka – don't overdo it because the guy next to you is 30 or 40 years younger!"
One of the rules is that you can't take your bike off the rack unless your helmet is on your head. Safety first!
Most of the bikes were incredible. It was a bit intimidating as my bike is 30 years old, but I know it fits me and the bike can go much faster than I can.
Although I have a lot of biking riding experience compared to the average person my age, I am not an experience racer. This was only the second time I raced on my bike and the last time was 5 years ago.
Twinsburg Duathlon Race Recap:
I ran the first two miles like it was a 5K, trying not to shoot out like a rabbit at the first mile. The course had some hills so that certainly helped to slow me down. I had walked the course the day before I picked up my bib, so it didn't surprise or intimidate me.
We ran around the football stadium and along the back of the park where the town holds outdoor music concerts. Then around past the outdoor swimming pool. What a great way to showcase the town entertainment.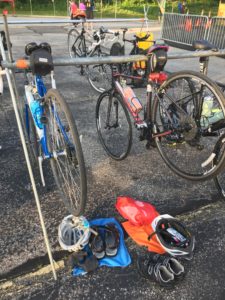 There are five parts to this duathlon:
1) Run – 2 miles. When it was time to start running I had already taken my spot at the back of the pack. I know that other runners are annoyed having to pass slow people and more importantly, it is hard for me to "run my own race" if a lot of people start passing me. Then I go out too fast, which will cause me to finish too slow.  This course had a few hills and one water station at the halfway point.
2) Transition – This was the mentally challenging part! Here is what I told myself: Enter at the run in section, find my bike. Take off running shoes, put on biking shoes. Then put on gloves and helmet. Take bike off rack. (The front of the seat hangs off of some pipes.) Walk the bike to the tape, which marks the start of the bike race area. Mount the bike safely. Start riding! This transition took me just over a minute and a half.
3) Bike – 10 miles. The bike portion started on a slight downhill out of the library parking lot, before a sharp right onto the street. About 50 feet of riding and then a right into a lightly traveled condo street, which had a slight uphill grade. I liked that they had so many volunteers pointing the way and helping with traffic. Immediately I felt my anxiousness about that worry fade into the background.
I had clips on my bike sandals to attach them to the pedals. This helped so much going up hills! In my head was a solid chant of "Pull… pull… pull" as I rode up the hill.
Police helped direct the traffic. The right turn onto route 82 went smoothly and crossing lanes over route I-480 bridge was easy. Being that it was 8 am on a Sunday morning helped too. I only saw one car at that area. Not sure I'd want to attempt it without the police because that's a tough area/intersection. The miles cruised by without too much excitement or effort. I probably should have pushed harder, but I wasn't sure how much energy to save for the second run.
During mile 7 and 8, there was a lot of up-up-up steady grade uphill climb. Shout out to the woman behind me who had my back! Every time a car would be there, she'd shout out "CAR BACK" which was the nicest thing. I so much appreciated it! I love when competitors are helping each other! We got a photo together at the end of the race, but I can't find it in my photo gallery.
Just before getting off my bike I saw Jill cheering me on and gave her a thumbs up. It was starting to get hot outside. So great to see a friendly face and hear Jill's voice supporting me!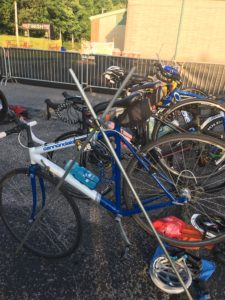 4) Transition back to running – off came the gloves, off with the helmet, off came the sandals. Popped on and tied the running shoes… ran out the race opening in the back of the pen. Gave two high fives to some Team ER members who had already finished the second run. Ran past the water station (I had been drinking from my water bottle on the bike) and out the side of the chute to begin the second run.
5) Run – 2 miles. This second run was wild. My legs felt really funny like when you hop off the treadmill after doing a run. Kinda wobbly and it took me a while to get back in the groove.
I had already given myself permission to walk the second part of the run course if needed, but my pride wouldn't let me actually walk when I was starting out down the chute. And then the runners were running their final sprint for the finish towards me. Many of them offered support to me saying things like "looking strong", "you've got this" "You go girl" which was very energizing to me. I tried to do the same for runners coming towards me.
I was trying to remember to keep a smile on my face because I've heard from several places that smiling tells your body it is doing great. Something about your face muscles unconsciously tells your brain how you're feeling.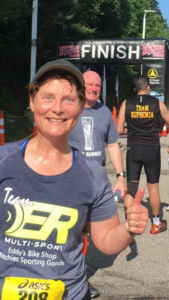 I finished feeling great. I was delighted with my results. And pleasantly surprised when Jill told me I won my age group! It helped that I was the only one in my age group. Next year I'm hoping to have many more women in my age division for this awesome race.  This is a shout out to you to join me as a team member or an individual next year!

I learned this: doing something I'm a bit scared about makes me feel so super charged when it is over and I did it!
Have you experienced that feeling? Let me know by leaving a message below or click here to email me.