I love salads, but find that I am hungry just a few hours after eating a huge salad if I don't have some protein in them. Grilled chicken is my "go to" for adding protein when I eat out at a restaurant, but at home, when I'm cutting vegetables for a salad, I try to find other ways to add some protein.
One easy way is to add some beans.
I call this Cucumber and Kidney Bean Salad a protein salad because I added a 15 oz can of drained kidney beans. There are only 6 ingredients – with one "surprise" ingredient in the dressing that I bet you haven't tried lately.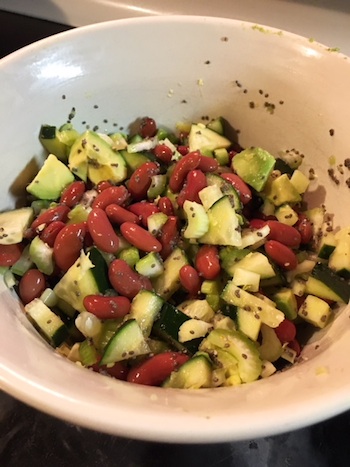 Salad:
Cucumber – sliced and quartered
Celery – sliced and chopped
Kidney Beans – can, drained and rinsed, pat dry
Dressing:
Cider vinegar
Olive oil
Chia seeds
I like to buy the cans of kidney beans that are low sodium. If you have the time, buying kidney beans in a bag, then soaking them overnight also provides a much lower sodium content. One of my favorite food tracking apps, My Fitness Pal, says there are 7 grams of protein in one cup of kidney beans and about 25 grams of protein in the entire can. That is a little more than the 4 oz. of protein in the grilled chicken I usually add to a salad, but lots more fiber!
Don't get me wrong, I still love a grilled chicken breast added to my salad, but if I don't have the time, adding beans is easy!
Secret Ingredient
Chia seeds are those little circle spots you can plainly see on the celery and cucumber. They can be considered a super food because of the nutritional value, providing healthy omega 3 fatty acids, fiber, protein and antioxidants. Supposedly the chia seeds help reduce food cravings, help you to stay hydrated and remain satiated. Hey, I'm all for that! Some people think that they have a nutty flavor, but they don't have much taste to me.
One ounce of dry chia seeds provides 4.7 grams of protein and 11 grams of fiber! One ounce is about 2 Tablespoons, which to me is a lot. This salad has only one Tablespoon of chia seeds, to help boost up the nutrition in this protein salad by 2.5 grams of protein.
The texture of chia seeds is a little different. After they get wet with the dressing, a little gel forms around them. It's different than many of the foods I generally eat so I feel like it is a treat.
When I tell people about adding chia seeds, inevitably someone starts singing the chia pet song from that fad commercial a few years ago. "Cha Cha Cha Chia!" Maybe I should rename this salad!