I came up with this Brussels Sprouts and Kale Salad to help celebrate the fall season. Fall is a great time of year for the hardier vegetables like Brussels sprouts and kale. I went to make lunch the other day while my daughter-in-law was visiting and said, "I know. Let's make this salad I've been thinking about." We both enjoyed it and we both had some ideas on how to improve it.
It's been quite a while since I posted about my cruciferous crunch salad. This is in the same vein but has a simpler dressing and fewer veggies. I bet you could use a bag of cruciferous crunch salad with this recipe.
This recipe uses sliced Brussels sprouts and chopped kale. You can buy both of these things at the grocery store but it's easy enough to do at home. I had fresh Brussels sprouts in my refrigerator so I sliced off the ends and then used my food processor with the slicing blade. I quickly had sliced Brussels sprouts at less than the cost of already sliced ones from the store.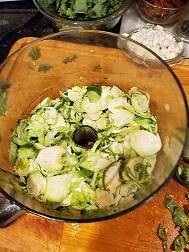 You can also chop your own kale or buy pre-chopped at the store. I happened to have a bag of pre-chopped kale so it was convenient.
I used a honey crisp apple because that's what was in my refrigerator. The honey crisp apple tasted great but you could switch the apple to something a bit more tart, if you prefer.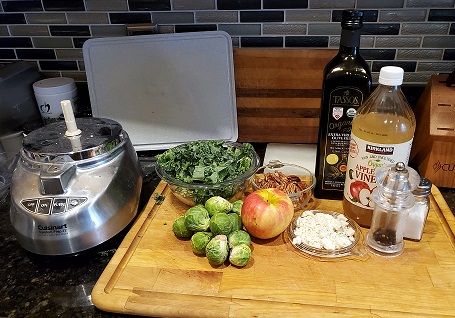 Ingredients for Brussels Sprouts and Kale Salad
2 cups of Brussels Sprouts, sliced
2 cups chopped kale
1 diced apple (remove skin if you prefer)
1/2 cup chopped pecans
1/3 cup blue cheese crumbles
Dressing
8 Tbsp of Extra Virgin Olive Oil
2 Tbsp of Apple Cider Vinegar
1 Tsp of Dijon or Brown Mustard
Directions
Mix the sliced Brussels sprouts and kale in a large bowl.
Pour the dressing ingredients into a small jar and shake well and then pour the dressing over the Brussels sprouts and kale.
Stir well, coating the vegetables with the dressing.
Cover the vegetables and let sit for at least an hour. Longer would be better. The dressing helps soften the crunchy vegetables so you could actually let this sit for a day in the refrigerator.
When it's close to time to serve, add the chopped apple, pecans, and blue cheese. Mix well and serve.
Notes for Brussels Sprouts and Kale Salad
The quantities of kale and Brussels sprouts can be adjusted based on what you have on hand. You could probably omit the kale completely if you want.
The first time I made this salad, we ate it right away. It hadn't soften from the dressing so we decided this would be better if it sat for a while.
You could omit the blue cheese or replace it with feta cheese.
I used pecans but you could also use walnuts or maybe pumpkin seeds. Experiment with what's in your pantry.
My daughter-in-law doesn't like cranberries so I didn't use them but I think dried cranberries would be an excellent addition to this salad. If you're going to serve it over the holidays, definitely consider using them just for that splash of color.