I tried a new to me kind of veggie burger this week called Beyond Burger. Does this count as part of the veggie challenge? I'm not sure, because this sure felt like cheating!
Just to clarify, I am a meat eater but want to have something on hand when vegetarian family members are here for lunch. I've tried Boca Burgers and like the original version… and have had MorningStar but haven't liked the taste of those. My husband picked these up at Costco.
The Beyond Burger is a frozen patty, packaged two to a container. I took mine from the freezer and defrosted it in the microwave. The red juices looked suspicious to me until I double checked the ingredients where I saw beet juice. That explained it.

I think if I did the entire burger thing with a bun, lettuce, tomato, pickle and condiments, it could almost pass as real beef. However in this taste test, I just had it as a patty, so I could focus on the flavor.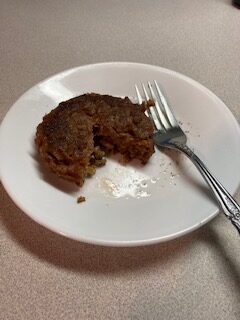 On a scale of 1-10, I'd say that I'd give it a 6 as just a patty. Not too bad. The consistency didn't tempt me to break it up to use it like crumbled ground beef to use in a recipe, which was my first intention.
Also I found that it needed to be cooked low and slow, so it wouldn't burn.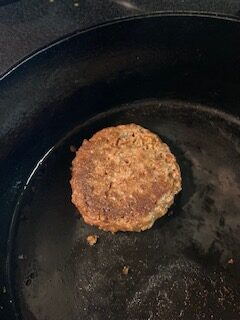 Maybe I should have added some olive oil to the pan to begin with, because the outside tended to get too cooked without doing the the middle, when I cooked it at my usual burger stove top setting of 7 on my cook stove. End result, the first part was cooked as a 7 and after I flipped it, I reset the temperature to a four and put on the lid to help heat the insides as well.
Next time, I may go wild and actually break it up to use in a recipe as pretend ground beef in chili or my inside out egg rolls with broccoli slaw.
Have you ever tried Beyond Burgers? How did you fix it and did you love it?