Sustaining Weight Loss using Vegan Eating & Intermittent Fasting  – Episode 52
Download | Play in New Window
Please Subscribe: Apple Podcasts  (iTunes) | Google Podcasts | Android-Google Play | Stitcher | Player FM | Castbox | Tunein | Spotify | RSS
In episode #52, Dawn Maloney is interviewed about sustaining her weight loss. Dawn is wife, mother, realtor, and mostly vegan intermittent faster.
With 130 pounds fluctuation between her highest adult weights, Dawn needed to find a sustainable eating and movement lifestyle to help her consistently live a healthy life.
Through intermittent fasting, plus a nearly 100% vegan lifestyle, she has finally found the balance she wanted.
Topics and resources we discussed:
Lifetime of dieting started right after high school.
She started a vegan way of eating in 2016-early 2017. She lost weight but stalled after a while. After starting intermittent fasting in November 2019, she is doing well with that.
Feels better with a plant-based diet.
Changing her diet and losing weight helped to eliminate her problems with prediabetes.
Jill's book review of The Obesity Code (written by Dr. Jason Fung)
Recipe: Making Rice or Grains in the InstantPot
4 cups of rice and lentils (or the grains you want to use)
5 cups of water
Cook for 15 minutes in the instant pot. This makes enough for several meals so good for meal prep days. She likes to put the rice or grains over greens and eat with with salsa and beans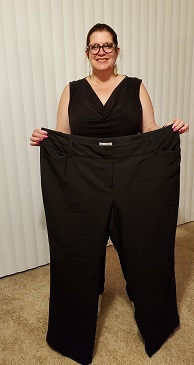 To reach Dawn:
Website: Dawnsold.com
Facebook: www.facebook.com/dawnsmile
Instagram: www.instagram.com/therealdawnmaloney