I found this seaweed salad on the salad bar at Whole Foods so of course I bought some, simply because I thought, "now this is a great choice for the new vegetable challenge we're doing at Becoming Elli!" How was it? Pretty good, actually.
According to the sign on the salad bar, this seaweed salad is made with kombu seaweed, sesame seeds, sunflower oil, scallions,ginger, natural flavor (what does this mean anyway?), and sea salt.
Thanks to my Google search, I learned that kombu seaweed is a type of edible kelp. Kombu is a good source of glutamic acid, iodine, potasium, calcium, dietary fiber, and many obscure enzymes. You don't want to eat too much of kombu because too much iodine can be harmful to you.
Because I bought this already prepared, I have no idea if it's hard to make your own salad.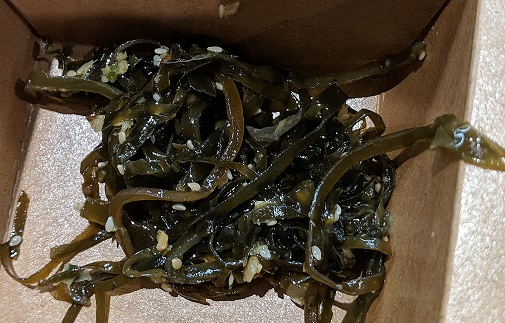 I will certainly buy this again next time I'm eating at Whole Foods. It was very tasty. I don't know if I'll buy it unprepared and make my own salad but perhaps if I'm feeling even more adventurous, I will.