Episode 38 of Fit Strong Women Over 50
Download | Play in New Window
Please Subscribe: Apple Podcasts  (iTunes) | Google Podcasts | Android-Google Play | Stitcher | Player FM | Castbox | Tunein | Spotify | RSS
In episode #38 of Fit Strong Women Over 50 podcast, Jill and Chris compare 11 popular Protein Bars of 2019 with protein, carbs, fiber and of course taste.
Find out which ones we liked the best… and the worst!
*We purchased these bars ourselves, nothing was donated to us. All comments are our own and we were not paid for this review.*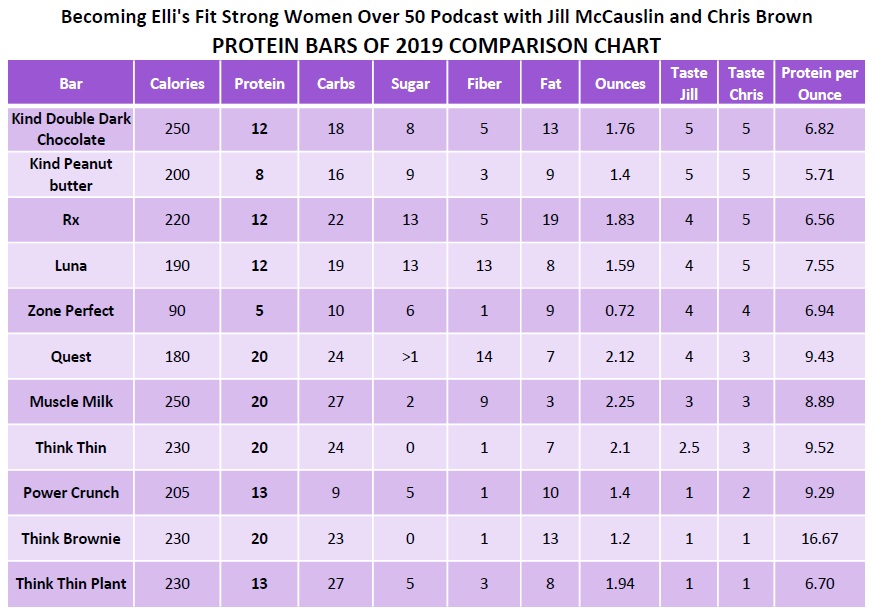 Open a link to this image of the Protein Bar Comparison Chart found here.
Download to print a PDF of the Protein Bar Comparison Chart here.
We discuss the pros and cons of protein bars of 2019 and evaluate 11 different bars:
Kind Double Dark Chocolate
Kind Peanut butter
Rx
Luna
Zone Perfect
Quest
Muscle Milk
Think Thin
Power Crunch
Think Brownie
Think Thin Plant
We review the numbers and the taste of each one of these bars. The results surprised us and they may surprise you too!
If you are interested in making your own bars, click here for Melanie Jatsek's bar, here for Heather Lentz's bar or here for a variety of other homemade protein bar recipes.
Did we include your favorite bar? Let us know. Disagree with our taste test? Let's talk about it! You can reach us at our voice mail 330-970-6662 or send an email to Chris@becomingelli.com. You can also find us on our social media accounts @becomingelli. It's also easy to leave a comment below.