I first picked up a tube of Nuun Sport tablets at the expo for the Akron Marathon. Boy, do I enjoy a good race expo. You can see what's new in the world of running and choose from a variety of products. Lots of gadgets and accessories galore. There's also lots of energy gels and electrolyte options. I bought a tube of Nuun tablets from one of the exhibitors, along with some other goodies.
Nuun tablets are meant to be dissolved in your water bottle. They're similar to Alka Seltzer in that you drop a tablet into water and it fizzes until eventually the tablet dissolves.
It can take a while for the tablet to completely dissolve. I find myself sometimes shaking the bottle, trying to hurry up the whole process. Come on, I want to drink this now! I suppose this means I should do a better job of planning how to use Nuun for replenishing electrolytes.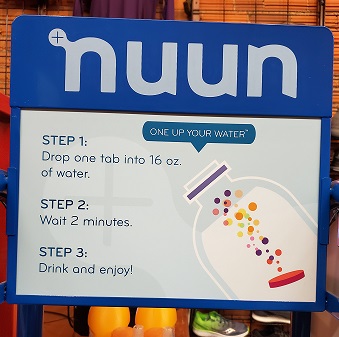 Nuun Sport
What do I like about Nuun? I like that it's fairly light. The flavors aren't overpowering. It also doesn't have a lot of sugar or sugar replacements in it.  The Nuun website says that they were the first to separate electrolyte from carbohydrate replenishment. Therefore, all of the sugars that are in Gatorade or PowerAde aren't part of Nuun.
I also like the fact that the tablets are scored so they can be cut in half. That way you can slide the tablet into a small opening or only use half a tablet.
Nuun comes in a small tube with a screw on lid. That makes it easily transportable and it can fit in a pocket or running belt. I did throw one into my purse and the lid eventually worked its way off and I had to rummage around to find the tablets and then throw them away. I do not want to eat anything that's been bouncing around inside my purse.
Flavors
Apparently, this product is a success because their list of flavors continue to grow. Some of the flavors they currently sell are:
Cherry Limeade
Citrus Fruit
Fresh Lime
Fruit Punch
Grape
Lemon Lime
Mango Orange
Orange
Strawberry Lemonade
Tri-Berry
Tropical
Watermelon
Wild Berry
Ingredients
Each electrolyte tablet contains the following: sodium (360 mg), potassium (100 mg), magnesium (25 mg), calcium (13 mg), vitamin c (38 mg) and sugar (1g).
Serving Size: 1 tablet in 16 oz. of water
Potassium: 150 milligrams
Sodium: 300 milligrams
Calories Per Serving: 15
Notice that some of the flavors have caffeine in them.
You can check the website for ways to buy Nuun. I noticed that it's available around me at running stores and grocery stores, including Walmart. So, they shouldn't be too hard to locate. Plus, you can order them directly from the Nuun website: www.nuunlife.com.
I like Nuun Sport. The flavors that I've tried are light and refreshing. They don't have that cloying taste of the sweeter drinks. Also, I like that it doesn't have a lot of sugar or carbs. That way I can separate my need to replenish electrolytes and to refuel with carbs.
I do like the tube that they come in, even if it did fall apart in my purse. Lesson learned, don't carry it around for weeks without using it.
There's so many flavors that I'm going to have to try a new one.
Do you use Nuun Sport? What do you think? Let me know by commenting here or on our Facebook page. You can email me at jill@becomingelli.com.