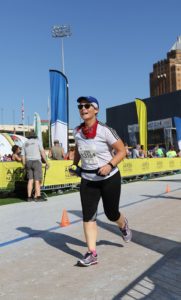 The Akron Half Marathon started out chilly at 60 degrees when we got into town and parked the car before the roads shut down at 6 am.  It felt like dark thirty… but my stomach and head were WIDE AWAKE with excitement and anticipation.
Jill and I were ready in the corral long before the 7 am start. We did the 6:30 am photo with our online running group and visited the porta-potty well in advance of the Star Spangled Banner. Corral D was a buzz of nervous, excited runners, filled with Team Relay runners and Half Marathoners. I didn't see a lot of marathon bibs, but then again I was focusing on my mantra for the early part… run your own race.
Jill and I separated as soon as the crowd started up. I crossed the start line at 7:10:06.
I felt chilly. It was still dark and we shuffled along.
Start Slow to Finish Fast
I took the first mile very slowly since during our practice I was out like a rabbit and did the exact opposite of what you're supposed to do. However I may have overdone it since it was downhill. In retrospect, I probably went a bit too slow.
When Jill and I practiced on Aug 26 I ran something like a 12:16 mile… did the exact opposite for the real thing. Yeah.  Maybe even over did it.  My first mile according to my Strava was 15:20 (but maybe I started the clock a bit too soon, definitely before crossing the start matte, and we walked in the crowd.)
The second mile was closer to actual at 14:03… and every mile after that was faster than those two. At the 2nd mile I saw my friends coming early in the morning to cheer me on. Wow, was that a shot in the arm.  We doubled back in this area and I saw them again at mile 5. I had to keep reminding myself "start slow to finish fast."
It wasn't until mile 9 or so that I started thinking about my mantra the last half of the race was "Negative splits. Negative splits."
I heard that in my mind every step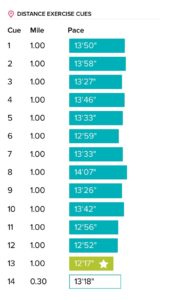 Fitbit shows my last mile is the fastest mile. Yeah! Negative Splits!
Below is a different tracker called Strava.  Same race!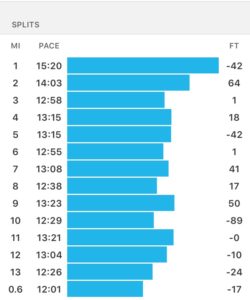 Funny how Strava has different times all together, all a little longer. the minus and plus numbers are the feet up or down for climbing or dropping.
On the chart below there are more comparisons of my run by first and last section, pace and number of people passed.

I like that I passed 160 people during the last half of the race (and only 4 people passed me!)  This is where the first two miles at an incredibly slow pace while I was fresh really helped!
Food is Fuel
Trying to figure out food to keep you moving for three hours in the heat is a tricky thing. Blood sugar, heart rate, pace and the heat all effect it.  I kept track of what I ate and drank. I think I did it right, but it was a hot one! (Several people went to the hospital for overheating, even those doing the half.) Below is my running plan of food and drink compared to the actual food/drink/and cooling scarf!  You can see I never really ran that planned pace until the last bit of the half.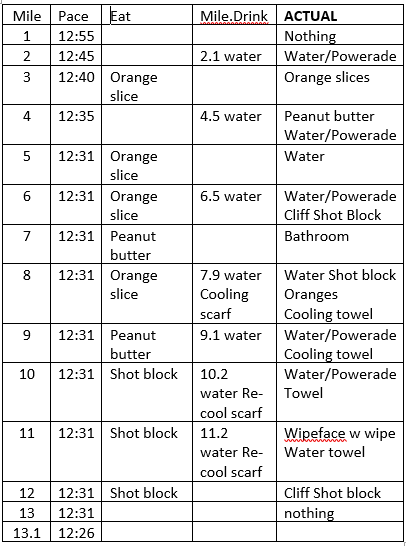 Standing in the finishers area for the party was really tough in the heat. I was a bit confused and not functioning at 100%. My feet hurt from pounding the pavement in the hear. Later when I got into the shade I felt a bit more normal.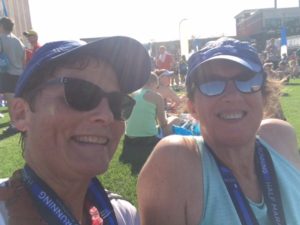 The bottoms of my feet were hurting. I didn't expect that. I think because of the heat and the mileage.  We took a quick sit down in the grass, just to get off our feet, but not for long!
As I recall, I drank Powerade and water at every water station.  Plus — even though they always say "NOTHING NEW ON RACE DAY" — I bought a handheld insulated Nathan water bottle at the expo the day before and WOW, am I glad I did!  (Thanks for the advice, Jill!!) I filled it with water the night before, put it in the freezer overnight and actually had ice water for the first half of the race.  Temperatures got into the 80's and I think it was 78 degrees about the time I finished.
I finished the half with 2:56:53 and a 13:31 pace. Under 3 hours, which was my goal! I'll definitely run a half again!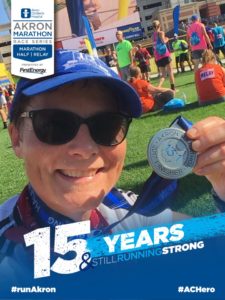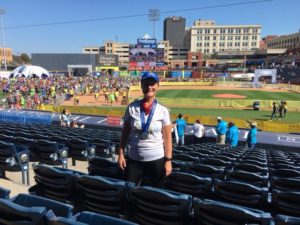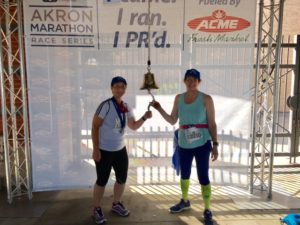 Will I do it again?!? You bet. I'm going to see if I can get to 2:30 ish for my next race. Or at least that's what I'm thinking now. More cross training. Better fuel management. Have the same amount of fun each time and I may be doing half marathons for a very long time – God willing!