#134 Fit, Fierce, & Fabulous with Karín Feltman

Download | Play in New Window
Please Subscribe: Apple Podcasts  (iTunes) | Google Podcasts | Pandora | Stitcher | Player FM | Castbox | Tunein | Spotify | RSS | Amazon Podcasts | iHeartRadio |
In episode 134, Jill and Chris talk with Karín Feltman, a registered nurse and the author of Fit, Fierce, and Fabulous Over 50! Her first book was Plant-based Basics. Her work focuses on holistic health for women over 50, with a particular focus on intermittent fasting and healing through nutrition.
She is a full-time cross-cultural worker in Nepal. She doesn't always have access to the Internet so we've been waiting for a chance to talk with her. She graciously made time for us when she was available, technology-wise.
Karín was a hospital nurse for 23 years, before beginning work in relief provision and mission trips. She now works on empowerment projects for vulnerable girls and women in Nepal and uses her writing to help fund greater opportunities for the communities she works with.
She completed the VegHealth Nutrition Mastery Course with the VegHealth Institute, and continues her research on holistic health and healing.

Karín is a self-confessed foodie and loves discovering delicious new plant-based recipes, picking up fresh ideas from every new culture she visits.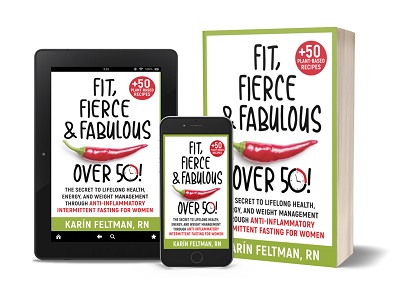 We discussed:
Her work in Nepal and why she chose that lifestyle
Tools needed to start intermittent fasting
Dealing with a chronic health condition
Why she wrote her book for women over 50 who want to prioritize their health
Getting enough protein on a plant based diet
Benefits of a plant based diet
Favorite recipes of hers that a quick, easy and healthy
What is anti-inflammatory intermittent fasting
Links:
Fit, Fierce, and Fabulous Over 50 on Amazon
Plant-Based Basics: An Easy to Follow, Step by Step Guide to Transitioning to a Plant Strong Diet and Lifestyle on Amazon