Here's how I made an easy coconut red curry chicken. I used the ingredients I had on hand and came up with a tasty dinner that didn't take long to assemble. Fast, easy, and good. It really doesn't get much better than that.
I cleaned out my freezer recently and realized that I had a large bag of frozen stir fry vegetables that I needed to use sooner than later. Also, I had some cooked chicken breast that I wanted to use for my dinner. Not only did I have a can of coconut milk but I also had some red curry paste in the pantry.
Probably my dish is not very authentic Thai food but it was tasty and quick so it counts as a win for me.
I also used cauliflower rice instead of rice. It's an easy way to add some additional veggies to your meal. If you're wondering how to cook cauliflower rice, check out our fried riced cauliflower recipe.
Easy Coconut Red Curry Chicken
This is a one-pot meal that you can make quickly. It's great for using up leftovers and for a weeknight dinner.
Ingredients
One can of coconut milk unsweetened
1/2 cup chicken bone broth or stock
One teaspoon tamari sauce (soy sauce would work as well)
Juice of half a lemon
2 tablespoons red curry paste
About three cups of Frozen stir-fry vegetables
One or two cooked chicken breasts diced
Cauliflower rice
Directions
In a large frying pan, add the full can of coconut milk, the tamari sauce, lemon juice, and red curry paste. Stir and heat until everything is blended and smooth.
Add the frozen vegetables and cook for about 7 to 9 minutes, until vegetables are tender.
Add the chicken and stir.
Cook a few more minutes to heat the chicken.
While the vegetables are cooking, heat your cauliflower rice.
Serve immediately over the cauliflower rice.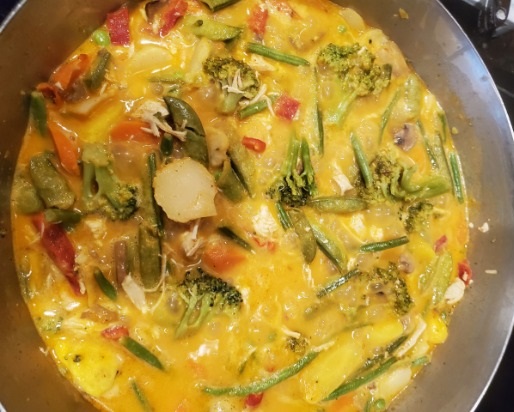 Notes:
This is obviously a pretty versatile recipe. If you don't have stir fry vegetables, just use whatever vegetables you have on hand. This would be a good way to use up those partially used frozen bags of veggies in the freezer.
You could also use chicken thighs instead of the breasts. Whatever you have on hand will be fine.
I chose to use cauliflower rice but you could use jasmine rice or brown rice. Whatever you have on hand is fine. I think this would be great over some rice noodles.
Let me know if you make this and how it turned out.