I never really thought I'd be writing a post about tuna and sardine salad.
The mind is a funny thing. I wanted to make lunch the other day and I thought I'd make my standard salad for lunch. I like to add protein to my salad. Usually I have some cooked chicken in the refrigerator just ready to be chopped up and added to my salad. This day, however, I was out of chicken because I used all of it in my Easy Coconut Red Curry Chicken. I was back to rummaging around in my pantry where I found a can of tuna and thought, no, that's not what I want. A can of sardines was lurking behind the tuna. I remembered that I should definitely try to eat more sardines but didn't really feel like making my standard sardine salad.
I wondered, "what if I mix a can of tuna with a can of sardines?" What could I do with that? I thought of adding some mayonnaise and some mustard. Wait a minute, I basically just thought of making regular old tuna salad and adding a can of sardines to it. What a radical thought! Later, I googled tuna and sardines and it turns out I'm not the first person to think of it but I guess that just proves it was a good idea.
Here's the basic recipe that I came up with. Of course you could add whatever else you think would be good. Probably some onion would be a nice addition. I didn't have any. How does that happen? I always have onion in the house but my trips to the grocery store don't happen as often as they could, I guess.
Tuna and Sardine Salad
This was really good. Combining the two fish worked out really well. The two flavors definitely complemented each other.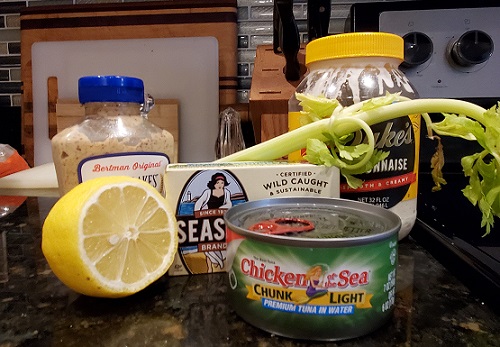 Ingredients for Tuna Sardine Salad
1 can each of tuna and sardines
1 stalk of celery diced finely
1/2 cup of mayonnaise (start with less and add until it's the level of creaminess you prefer.)
Juice of half a lemon
1 tablespoon of Dijon mustard or whatever mustard you have on hand.
Directions for Tuna Sardine Salad
Drain the cans of fish and then mixed them in a mixing bowl. Break the tuna apart and mash the sardines.
Stir in the celery.
Add the mayonnaise, lemon juice, and mustard. Mix well.
Serve immediately or refrigerate.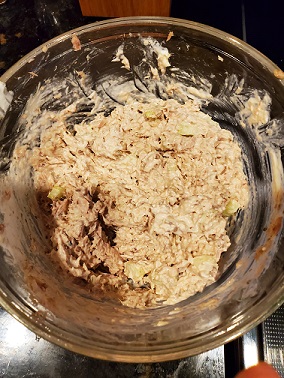 Notes:
I ate the tuna and sardine salad on top of a bed of greens. It would also be good as a sandwich or as a dip for crackers. I bet you could make an awesome tuna (and sardine!) melt too.
I used regular mayonnaise but if you follow a particular way of eating, any kind of mayo will do. Vegan mayo or mayo made with avocado oil would be fine.
Add in other crunchy vegetables if you have them.
This was a delicious way to eat both tuna and sardines.