I'm excited, eager, nervous and a little anxious to run in the Rite Aid Cleveland half marathon tomorrow.
I've been training and cross training for this race ever since I signed up back in October, shortly after the Akron half marathon race.
Eight months ago Jill and I ran the half marathon in Akron on a very hot day. It felt amazing to achieve such a huge undertaking. It was during the training for that race we become inspired to start Becoming Elli.
As I write this, 24 hours before the start of the race, I'm full of Cleveland half marathon anticipation!
Today Jill and I will head up to the race Expo with some friends. note: this photo is from the expo photo booth.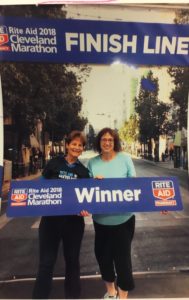 We will be picking up our racing bibs and walking through the exhibitors' booths. The booths will be filled with shoes, shirts, hangers to display medals, bumper stickers, sunglasses, special laundry detergent for sports clothing, water bottles, other Ohio races, fueling gels, racing mementos, and everything that a runner (or walker) might need.
Because this is only my second half marathon, I have the butterflies just thinking about it. It's the first time I've ever run this distance in Cleveland, but I've done a number of running races – 5Ks and one 10K before. And I've done lots of miles on my bicycle, but leisure riding, no racing!
In the weeks building up to the race, most of the time I thought about the weather. Will it be hot? or rainy?
Today I'm wondering if I will recognize all the landmarks. Or will I be too busy thinking about myself and my body? Hopefully I'm not too preoccupied thinking things like, "Did my knee just hurt? Am I breathing too hard? Should I speed up a bit?"
I bet I'll be thinking, "How much longer until the next water station?"
One reason why I signed up for this race is that it is walker friendly with a 4-hour cut off for the half marathon and 7-hour cut off for the marathon. Part of the mission of the Rite Aid Cleveland Marathon is to provide a running experience for all individuals who want to participate regardless of their abilities.
Water Station
I've worked a water station with the ski patrol friends and the Skiers on Bikes MS150 bike team every year since 2010, so I know that there is a variety of ages and abilities. Working the water station is one thing that inspired me to run in this race. I never thought I'd be one of "them" – it seemed like something completely out of my league.
It is incredibly inspiring seeing the determination on their faces, from the moment the first handcycles fly past, through to the final walkers moving through the route.
Shortly after the handcycles go through, the elite runners come shortly afterwards. They are amazing to watch. Their feet seem to almost float over the ground and their legs seem to run effortlessly like a gazelle. Most of them are in contention for prize money. This year totals more than $20,000. Then the serious runners zip by — most of them are looking very intense.
My favorite time in the water station is when the mass group comes through – the big bubble of people run by. Some people are dressed in costumes. Some are incredibly fit, others are limping, almost all are very determined and many are fulfilling a goal that they have been working toward a very long time.
Just being part of the sheer number of people involved – about 30,000 people between all the runners, volunteers and spectators – is exciting and a little overwhelming!
The Cleveland Half Marathon Course
There are three sets of races running – the 10K (6.2 miles) the half marathon (13.1) and the marathon (26.2). This link to the map shows how the three races weave in and out between each other.
It's got to be difficult to design a course so that each course is exactly the right distance, the runners can get some great views of the city and not too many roads are closed for the driving public. I am sure that there are about 12 other considerations for designing the course (like elevation, surface, parking, great finish area, water stations etc.) I know that this course is considered a flat course, but there are few hills.
Tomorrow will be an extra early morning. It's about a 45 minute drive from here. We have to be there by 6 am. The race starts at 7 am.
My Goals for the Half Marathon
Part of my Cleveland half marathon anticipation is wondering how will I do? I have three goals for my race:
Enjoy the experience
Finish strong and happy
Cross the line before 10 am
I picture myself fidgeting nervously in the starting corral, talking with some friends, taking photos in early morning hours. I'm going to try to start slowly, pacing my feet, my water and fuel throughout the race. I want to make the last 3 miles the best (fastest) miles. I'm going to try to keep my mind in a positive mode, even when the going gets tough.
Today, I have that feeling I used to get before a big performance when I was in the band at school. It's not that scary bad feeling of a big test in school, or waiting for results from a doctor's test that you're worried about. It's more like that fun feeling of a much anticipated last day of school as a kid with no responsibilities. I want to do well and meet my expectations, but I'm not sure how it will go.
What event are you preparing for? Or did you just finish a big goal? Let me know what is on your mind today by leaving a comment below.